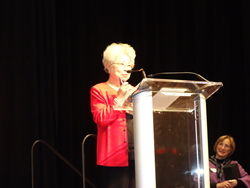 100% Focus 100% Confidence
(PRWEB) December 16, 2014
Elinora Park, Chairman of Tedia Company, Inc., of Fairfield, OH, was runner-up for the Woman-Owned Business of the Year award presented by the Cincinnati USA Regional Chamber of Commerce.
Park is one of 14 winners and runners-up in seven categories honored as part of the Chamber's Women Excel leadership initiative. The awards were presented at a Dec. 4 event at the Horseshoe Casino Cincinnati attended by some 800 people to recognize area businesswomen for achievement, innovation, mentoring and social responsibility.
Park was chosen runner-up from among five finalists for the Woman-Owned Business of the Year award, which recognizes companies in the Cincinnati USA region for workplace excellence, strong financial performance, innovation, growth, strength, and leadership development. This was the second year she has been a Finalist for the award and the first year she has received this award.
"This year's selection process was an especially tough one," said Tamara Lang, coordinator of the awards program. "Given the number and caliber of the nominees, making it to the finalist level is an accomplishment within itself. To be selected as runner-up speaks to Tedia's strong application and business performance. Tedia should be proud of this well-deserved honor."
Tedia Company produces high-purity chemical solvents that are used by analytical laboratories and in manufacturing facilities for such purposes as chromatography, pharmaceutical testing, environmental testing and research. With markets throughout the U.S. and in more than 30 countries, Tedia is the largest OEM manufacturer of high-purity chemical solvents in North America.
The company was started in Fairfield in 1975 by Park's late husband, Moon Su "Richard" Park. Elinora Park was President since 1989 and became Chairman in 2006. Adhering to Moon Park's vision of a company with a family-like environment that provides superior customer service, Elinora Park has led Tedia to significant growth in size, sales and product innovation.
With a workforce of 91, Tedia operates from a 48,000 square-foot office, warehouse, and manufacturing plant opened in 1979 at 1000 Tedia Way in Fairfield. In 2008, the company added an adjacent 40,000-square-foot storage/ shipment facility. In 2011, Tedia opened its state-of-the-art laboratory, the 20,000 square-foot Nalliah Tech Center.
Tedia is the only commercial-scale manufacturer in the U.S. that focuses exclusively on purification of organic solvents, and is the only manufacturer using fundamental processes that ensure on-site flexibility in products and production. The company has invested more than $10 million in the last eight years to developing its proprietary purification system, known as T2P2, which guarantees 100 percent customer confidence in its products.
In 2011, the company entered into a joint venture with a Chinese firm to operate one of the largest high-purity solvents manufacturing plants in China . Tedia is the first international company to invest directly in a high-purity solvent manufacturing facility in China.
Corporate citizenship is one of Tedia's core values and last year the company donated more than $50,000 to help organizations that support disadvantaged women and children. Tedia is a corporate sponsor for the annual "Fan Drive" sponsored by St. Vincent DePaul Society to provide fans and air conditioning units for needy families, and the company helps support orphanages in Beijing, China and Hyderabad, India.
In addition to holding fund-raising activities to support charitable giving, Tedia employees participate in an annual "day of community service" in which they volunteer at local organizations such as Dove House and Mid-Western Children's Home.