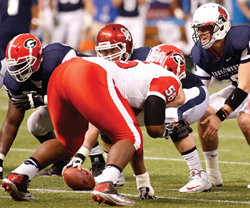 Play-by-Play Sports is pleased to once again provide radio coverage of the East-West Shrine Game.
St. Petersburg, FL (PRWEB) December 16, 2014
The nation's oldest college football all-star game is returning to Tropicana Field in St. Petersburg, Florida on January 17, 2015. The East-West Shrine Game serves as a key NFL showcase opportunity for player prospects prior to the NFL Combine and Draft.
Play-by-Play Sports Properties, LLC will again produce the expanded worldwide network radio broadcast of the game with the pregame show airing at 3:15pm ET.
Listeners can hear the 90th Annual East-West Shrine Game on SiriusXM (Channel- 88) on satellite radios and on the SiriusXM App, online at http://www.shrinegame.com and on the free Tunein Radio App and on http://www.tunein.com. Clear Channel's 620 WDAE "Tampa Bay Sports Radio" will again serve as flagship station for an over-the-air radio network comprised of more than thirty stations across the country. SiriusXM's Channel 88 will join the broadcast prior to kickoff at 4pm ET. (The Pregame Show will be aired on Sirius (Channel 136) and XM (Channel 201) beginning at 3:15pm ET.)
A veteran broadcast team led by Patrick Kinas returns for the fourth consecutive year. Patrick will be joined by retired NFL and MLB all-star Brian Jordan as analyst with Michigan broadcaster Rick Berkey on the sidelines.
There are currently 243 East-West Shrine Game alumni on NFL rosters, including 73 from last January's game. Tom Brady, John Elway, Brett Favre, and Walter Payton are only a few of many East-West players to go on to Hall of Fame careers in the National Football League.
Proceeds from the East-West Shrine Game benefit the 22 Shriners Hospitals in the United States, Canada and Mexico that have treated well over one million children.
Listeners can expect an entertaining and interesting 4.5 hour broadcast filled with exciting game action along with interesting stories and player interviews on the sidelines. The audience will also learn more about the important work of Shriners Hospitals for Children as parents and patient ambassadors are featured.
Joe Bourdow is Executive Producer for the East-West Shrine Game Radio Network. Stations interested in joining the Radio Network are asked to contact Bourdow directly at 727-827-2072 or by email at joebourdow(at)gmail(dot)com.
About Shriners Hospitals for Children
Shriners Hospitals for Children is changing lives every day through innovative pediatric specialty care, world-class research and outstanding medical education. Our twenty-two facilities in the United States, Canada and Mexico provide advanced care for children with orthopaedic conditions, burns, spinal cord injuries and cleft lip and palate.
About SiriusXM
Sirius XM Holdings, Inc. is the world's largest radio broadcaster measured by revenue and has 26.7 million subscribers. SiriusXM creates and broadcasts commercial-free music; premier sports talk and live events; comedy; news; exclusive talk and entertainment programs and the most comprehensive Latin music, sports and talk programming in radio. SiriusXM is available in vehicles from every major car company in the U.S. and from retailers nationwide as well as at shop.siriusxm.com. SiriusXM programming is available through the SiriusXM Internet Radio App for smartphones and other connected devices as well as online at http://www.siriusxm.com.
About Tunein
Tunein is the most popular way to listen to real radio from around the world. With over 50 million monthly active users, Tunein lets people listen to the world's sports, news, talk and music from wherever they are. Tunein has over 100,000 radio stations and more than four million on-demand programs streaming from every continent; and is available across 200+ connected devices.
About Play-by-Play Sports Properties, LLC
St. Petersburg, Florida based Play-by-Play Sports Properties, LLC handles broadcast production along with ticket and sponsorship sales for the East-West Shrine Game each January and the St. Petersburg International Baseball spring training series held each March. PBP also owns and operates a multichannel online radio station: RadioStPete.com.