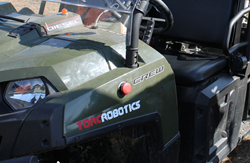 (PRWEB) December 16, 2014
TORC Robotics, LLC (TORC®) is proud to announce that we now offer a Tele-Operated System specifically designed for the Polaris Diesel Crew vehicles.
The tele-operated system is a wireless robotic remote control system that incorporates a user-friendly and intuitive operator control that can be customized to meet your needs. Multiple camera options, including fixed, PTZ, EO/IR, thermal and low light options are available for full 360 degree awareness around the vehicle, eliminating any blind spots. The operator control unit (OCU) is matched to customer needs, and ranges from a belly box or rugged laptop to an exact replica of the vehicle's operator chair and controls. TORC's tele-op system has been integrated onto multiple Polaris vehicles, all of which have different missions and payloads that can be controlled remotely with the TORC robotic systems as well.
TORC has a proven track record of successfully integrating our robotic systems and components onto many different vehicles used in several industries, including mining haul trucks and shovels, tractors, AITVs, automobiles, and now with the addition of the Polaris Diesel Crew, ATVs. But wait, the list doesn't stop there; do you have a vehicle that doesn't fall into one of these categories? TORC can provide a tele-op system for any ground vehicle. Expand your boundaries while keeping a safe workplace; contact us today.
About TORC Robotics
TORC Robotics, LLC (TORC®) is a leading provider of unmanned and autonomous ground vehicle solutions for the defense, mining, automotive, and agricultural industries. TORC components and technology have been integrated on over 100 unmanned and autonomous ground vehicle platforms ranging in size from 5 pounds to 240-tons. TORC's robotic systems provide customers with rapid solutions by leveraging proven COTS (commercial-off-the-shelf) technology to ensure customer solutions are provided on time and on budget. For more information, visit http://www.torcrobotics.com/.