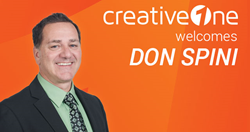 Don's primary directive is to take the organization to #1 in sales within five years by creating the best agent experience in the industry.
Kansas City, MO. (PRWEB) December 18, 2014
CreativeOne, a leading insurance marketing organization (IMO) serving thousands of independent agents and advisors nationwide, today announced Don Spini, as head of its annuity sales distribution division.
In his new role, Spini will train the sales organization to assist producers in the areas of product, training, marketing and lead generation. "Becoming best in class and growing the producers' business is the goal, "Spini said. "I have a proven method to instill a culture of training and business development which will continue to help CreativeOne in its goal to be the best at helping producers be the very best they can be. This will of course help us attract and retain the rising stars and the superstars."
According to CreativeOne President Mike Tripses, "Don's primary directive is to take the organization to #1 in sales within five years by creating the best agent experience in the industry."
Prior to joining CreativeOne, Spini served as president and chief distribution officer for HBW Insurance & Financial Services, Inc., specializing in life insurance, fixed annuities, fixed indexed annuities and investments. Prior to HBW, Spini specialized in selling employee health and wellness benefit plans as a producer, sales manager and national sales manager at several industry companies, including Assurant.
Spini has also written an Amazon best-selling book "Sixty-Seconds to Yes" to document his sales methodology of how people buy, why people buy and why people say no when they really mean yes. He's personally conducted hundreds of sales training sessions in recent years for various industries including the insurance industry.
CreativeOne was one of his clients where he provided producer sales training sessions beginning in early 2013. "The response from producers was strong, and I was impressed with the caliber and depth of CreativeOne. I started to think of the possibilities of aligning with a top notch company like CreativeOne," Spini said. "The transition to private ownership provides new opportunities to keep building the business. We'll train with great intention and expertise on how to develop deep relationships with people. We'll be the best relationship managers in the industry and help producers grow their individual businesses in a tangible way."
Tripses said, "We're pleased to have an industry success story like Don Spini on board to help us adapt and reach new heights. Under his leadership, we will uniquely combine product and sales training to become the premier independent marketing organization, and avail more high potential agents of an unparalleled array of marketing and business development services than any other marketing company in our industry."
Spini, a native of Mt. Shasta, California, will divide his time between the company's Leawood, Kansas headquarters and its other two offices in Tempe, Arizona and Topeka, Kansas.
About CreativeOne
CreativeOne, a leading national marketing organization for annuities, life insurance and securities, has been assisting insurance and financial professionals build successful practices since 1984. Providing affiliated agents and advisors with hundreds of product options from a variety of carriers, the company delivers superior agent education, advanced marketing training, substantial back-office support, and considerable industry expertise by 150+ talented and knowledgeable employees. CreativeOne sets an industry standard for its commitment to excellence, ethics and integrity in business, and producer-client satisfaction. Headquartered in Leawood, Kan., CreativeOne serves its affiliated insurance agents and financial professionals, as well as their clients, as One Team with One Voice and One Vision.
###
13922 - 2014/12/11 | EMP1412-207