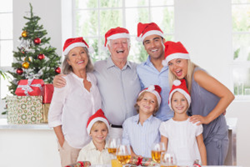 The average adult child lives 480 miles away from their parent
Richmond, VA (PRWEB) December 18, 2014
Searches and inquiries into retirement communities, assisted living facilities, respite adult day care, and home care services by adult children and family members see a sharp rise after the busy holiday season, according to http://www.SeniorsGuideOnline.com.
"The average adult child lives 480 miles away from their parent", says Katharine Ross, Vice President of Seniors Guide Magazine and SeniorsGuideOnline.com.
"While visiting family during the holidays, a lot can change from the previous year – including new issues and concerns with mobility, healthcare, and the ability to care for themselves", says Ross.
While more seniors and families begin to go online for quick research and initial inquiries into local healthcare resources, phone calls and visits follow as the next step.
"Families still like to talk to potential caregivers face-to-face and visit nursing homes and facilities before a decision is made involving their loved one", says Ross.
Online, Seniors Guide provides articles to help with research. "Questions to Ask When Interviewing a Home Caregiver" and "What to Ask When Visiting a Retirement Community" are just two frequently read resources within the website's online library. The housing and home care website also features listings of area communities, home care agencies, along with products and services for seniors.
Seniors Guide also provides a free magazine to find retirement communities and home care in the Central Virginia area (Richmond, Charlottesville, and Fredericksburg), Southwest Virginia area (Roanoke, Lynchburg, and Shenandoah Valley) as well as a Seniors Guide for North Carolina, which features resources in Raleigh, Durham, Cary, Burlington, and Wilmington.
In addition, Seniors Guide also publishes 3 magazines in Ohio – Columbus Seniors Guide, Cincinnati/N.KY Seniors Guide, and Dayton Seniors Guide, as well as a Seniors Guide in Indianapolis, Indiana.
"Our print publications prove to be a valuable resource in research into moving into a retirement, hiring a home caregiver from a home care agency, as well as other products and services for seniors", says Ross.
To order a free Seniors Guide magazine, visit http://www.seniorsguideonline.com/print or request one by calling 866-774-8433.
Seniors Guide, a Richmond, Va. -based company publishes Seniors Guide magazines throughout Cincinnati, Ohio; Columbus, Ohio; Dayton, Ohio; Indianapolis, Indiana; Raleigh-Durham, North Carolina; Richmond, Virginia; and Roanoke-Lynchburg, Virginia and features a correlating website of SeniorsGuideOnline.com. Seniors Guide's mission is to help seniors and their families find the information they need on options available in senior housing, senior care, assisted living, independent senior living, retirement communities and other retirement living needs. Seniors Guide also has resources at http://www.HomeCareChoice.com for Cincinnati, Ohio; Columbus, Ohio; Dayton, Ohio; Raleigh-Durham, North Carolina; and Richmond, VA. Ross Publishing, Seniors Guide's parent company, began in 1991 and has been publishing helpful, free publications and websites ever since.