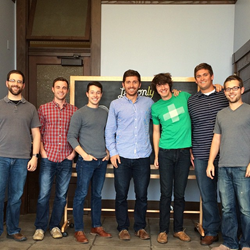 Lesson.ly's approach to training software is spot on.
Indianapolis, IN (PRWEB) December 16, 2014
Lesson.ly, the easy training software company, announced this month it has closed $1.1 million in funding to further accelerate customer acquisition and product development. Revenue for the company has increased 25% month-over-month for the past 9 months.
Led by Allos Ventures, the financing round also saw participation from Peter McCormick and Scott Dorsey. With previous financing from Chris Baggott, Lesson.ly is the first company to count all three ExactTarget co-founders as investors.
"I'm excited to watch Max and his team aggressively attack the status quo around corporate training," said Mr. McCormick. "Training has been integral to the success of every company I have been a part of; Lesson.ly's approach to training software is spot on."
Lesson.ly is rapidly approaching the 100-customer mark, with Lyft, Angies list, and ModCloth already among them. The company attributes much of its success to its software's ease-of-use, which empowers teams of all sizes to stay on the same page by building, sharing, and tracking bite-size lessons.
"These guys have been a real pleasure to work with," said Paul Thompson, the Driver Training Manager at Lyft. "[They] are filling a big void in the e-learning space."
The company's CEO and co-founder, Max Yoder, is thankful for the past year's growth, and excited for the future.
"Before Lesson.ly, you either bought software that hurt your eyes and bank account, or you duct-taped something together with out-of-date Powerpoint presentations," said Mr. Yoder. "Now, you buy Lesson.ly, and your training problems are solved. We are proud of that, and we're grateful to fill the need."
Learn more about Lesson.ly at their website http://www.lesson.ly.