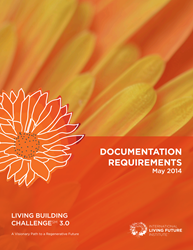 "The charrette process is a proactive planning session which takes into account LCF's mission goals and funding target, green mechanical system innovation and beautiful architectural design". – Lee Nesler, LCF's Executive Director & CEO
Myakka City, FL (PRWEB) December 29, 2014
Lemur Conservation Foundation is embarking on a journey to design and build a 4,000 square foot multi-purpose facility that will provide a place for visitors to live while learning firsthand about the importance of conserving lemurs, their habitat, and the biodiversity of our planet as a whole. As a green building rating system, The Living Building Challenge provides a unique opportunity that results in a truly sustainable high performance building in every aspect. There are very few buildings in the United States that have built to this high standard. Not only will this building fulfill a vital function that supports Lemur Conservation Foundation and its mission, but it will also strive to be sustainably designed and built.
The Living Building Challenge is a green building framework for our built environment that connects with our planet holistically. It is the most innovative and advanced green building system that we can use to design to today. The Living Building Challenge embraces our natural world, cultural communities as well as art and beauty. For these reasons the Living Building Challenge is a perfect fit for the Lemur Conservation Foundation whose goals are similarly aligned. The building will accomplish several important goals. By generating all its own power and water it will be completely self-sustaining. It will embrace art and the beauty of nature in its design. It will provide a healthy living environment for its visitors designed to the highest standards possible, and offer LCF's visitors from around the world an opportunity to learn what it is like to live in harmony with our planet in the most thoughtful way possible. Most importantly, it will serve as an inspiration for understanding the importance of conserving not just lemurs and their habitat, but also the biodiversity of our entire planet's biodiversity.
For the charette process, LCF brought together leading architects, designers and conservationists to discuss several important considerations from how our pristine, wild, Florida habitats intersect with architecture and land use, net positive water and energy requirements, materials, architecture and engineering, community impact, the unique ecology of our location, and the health and happiness of those using the building. Kata Petty, Senior Project Designer with Steven Kahle Architects, initiated the Living Building Challenge project at Lemur Conservation in honor of her mother, the late Charlotte 'Mopsy' Lovejoy, a long-time LCF board member and conservationist. Her vision for the Lemur Conservation Foundation and a multi-purpose building created through the Living Building Challenge joins art, sustainability and the understanding that we can celebrate our living world through creating a place where people can come to learn and experience conservation as a living organism, evolving as we dare to push ourselves to greater achievements.
About Lemur Conservation Foundation: Lemur Conservation Foundation (LCF) was established in 1996 by Penelope Bodry-Sanders. LCF is a leader in the conservation and preservation of the primates of Madagascar through programs dedicated to observation oriented research, education, and lemur propagation, with a commitment to infuse art into all of our mission programs. LCF is an American Association of Zoos and Aquariums accredited private, 100-acre facility based in Myakka City, Florida. Our current lemur population representing six species thrives in naturalistic free ranging habitats ranging in size from 9 to 13 acres, and smaller enclosures for animals in need of a more specialized environment. LCF is a respected voice for science, conservation, education, art, and lemurs, the iconic image of the conservation challenges and environmental stewardship facing Madagascar and the world.