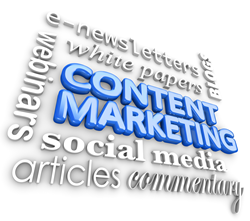 Each unique stage of content marketing should focus on what the customer needs at that particular stage.
(PRWEB) December 15, 2014
GetUWired, a full-service Internet marketing firm that specialises in Infusionsoft, web design, automated marketing, content marketing, and more, has just released an informative blog called "Content Marketing Infographic: Giving customers what they want at every stage." The blog can be seen here.
The four stages of content marketing
The four stages of content marketing are exploration, decision making, purchase and advocacy, according to the blog. Each stage corresponds with a step in the sales funnel.
In the first stage, "exploration," customers are least committed. They are most likely shopping around, and social media and blogs are the proper way to increase their engagement with a company.
The second stage, "decision making," is when customers are determining what they will buy and who they will buy it from. Blogs and website content are critical at this stage as customers are likely to be doing more in-depth research on the companies they are considering.
The third stage, "purchase," is when the customer will be buying the product or service. E-commerce and promotions are the most important aspects of marketing at this stage.
The final stage is "advocacy," where customers who have made a purchase become long-term clients. The advocacy stage is where customers leave reviews. It's also the right time to ask for referrals.
GetUWired specializes in custom content marketing
For more information on content marketing, call GetUWired at 877-236-9094 or visit http://www.getuwired.us