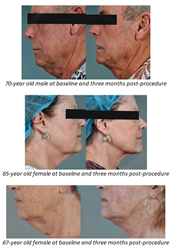 "This is the future of skin tightening," said Dr. Douglas Key, a board certified dermatologist and founder of the Key Laser Institute.
Southlake, TX (PRWEB) December 17, 2014
Radiofrequency is a staple in the treatment of skin laxity issues, however the skin tightening market has been glutted with ineffective technologies that have promised results they cannot deliver, frustrating patients and doctors alike. A burgeoning, non-invasive treatment has now taken the market by storm, ThermiRF™, the first FDA-cleared, thermistor-controlled subdermal skin tightening technology that injects radiofrequency below the dermis to attain long-lasting, measurable results. In a study published in the December 2014 issue of the Journal of Drugs in Dermatology (http://jddonline.com/articles/dermatology/S1545961614P1485X/1), leading cosmetic dermatologist Dr. Douglas J. Key concluded that ThermiTight™ is a safe and effective technology for treating skin laxity in the neck and jowls.
"This is the future of skin tightening," said Dr. Douglas Key, a board certified dermatologist and founder of the Key Laser Institute. Previous radiofrequency devices have required multiple treatments and offered unpredictable results. ThermiTight administers radiofrequency directly to the dermal and subdermal tissues with a percutaneous treatment probe, using heat energy in conjunction with Thermal Image Monitoring™. This advanced infrared imaging allows medical professionals to see and direct heat at all three layers of the skin, achieving optimal skin tightening results in a single treatment.
The recent study by Dr. Key focused on 35 patients who underwent ThermiTight for skin tightening, specifically on the neck and jowls. The results showed statistically significant in treating skin laxity issues in both males and females. 72.4% of subjects demonstrated a clinical improvement in skin laxity based on combined reviewer laxity scores. Two unbiased reviewers also assessed photographs of patients pre-ThermiTight and 30 days post-procedure and 89% of the time correctly categorized the photos as baseline (pre-treatment) or post-procedure, with no adverse events reported.
In addition to the significant results in skin laxity, participants noted no pigmentation issues, blistering, redness, rash or scarring. There were also no reports of burning, sore or achy sensations that were sufficient to require pain medication post-treatment. "Thermal Image Monitoring lets us create patterns of heat energy that are safer and better than ever before," says Dr. Key. Additional safety measures include an auto shut off feature that is triggered when temperatures rise above predetermined levels. This allows the device to heat the skin to the high temperatures required for collagen remodeling without risking epidermal burn.
ThermiTight treatments are available at select physicians clinics throughout the United States and internationally. A number of additional studies are planned and underway to further demonstrate the safety and effectiveness of ThermiRF for a number of cosmetic conditions such as axillary hyperhidrosis, cellulite, snoring and post-child bearing vaginal laxity.
For more information, please visit http://www.thermi.com.
About Dr. Douglas J. Key: Distinguished among dermatologists in Portland, Oregon and across the US, Dr. Douglas J. Key, of Key Laser Institute for Cosmetic Regenerative Medicine, is one of the nation's leading authorities in the field of cosmetic dermatology. A published author, he is frequently sought after by his peers to both lecture and instruct in the United States, Europe and Asia on his specialty of laser and light medical applications, skin restoration and the prevention of age-related tissue changes.
About ThermiAesthetics: The ThermiAesthetics flagship product is the ThermiRF Temperature Controlled Radio Frequency Generator System and is FDA cleared for dermatological and general surgical procedures for electrocoagulation and hemostasis; and to create lesions in nervous tissue. ThermiRF is an advanced technology using finely controlled thermal energy. It is a multi-use platform, which promotes increased patient safety and clinical effectiveness, while providing versatile solutions for physicians serving the aesthetic market.
ThermiRF features a unique temperature control feature and uses proprietary hand pieces, which are designed for specific medical applications. These include a variety of disposal RF electrodes and cannulas and reusable non-invasive hand pieces.
###