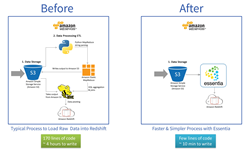 "The Essentia Redshift module has reduced the pain of processing raw log files into Redshift from a few days to only a few hours" - Colin Borys, Data Scientist
Pasaden, CA (PRWEB) December 17, 2014
AuriQ Systems, Inc. is launching their Essentia Redshift module which has direct support for Amazon's Redshift to facilitate pre-processing of unstructured big data. Amazon Redshift is a massively parallel data warehousing solution on the cloud that can be used for analyzing structured (columnar) data. Running queries on Redshift is very fast once the data has been cleansed, conformed and loaded. Unfortunately, this process is often a major hurdle for practitioners of big data analysis who want to use Redshift.
Big data is typically unstructured and requires ETL (extract, transform, load) in order to structure the data for use with any relational database. Log data, in particular, is especially difficult to work with because data quality can be very dirty (duplicates and errors) and it is typically stored in compressed file format that needs to be uncompressed to run ETL. Depending on data size, it may be days or weeks to finally get the data into Redshift, dramatically increasing the actual time it takes for queries to run.
AuriQ Essentia, available through Amazon Web Services (AWS), is an ETL (Extract-Transform-Load) toolkit which allows users to deftly manipulate raw data stored in Amazon S3 and obtain insight on its contents quickly and efficiently. By leveraging the power of Amazon's cloud services, Essentia can scale up and down as needed. With low overheads and processing done completely in memory, Essentia can handle complex ETL operations quickly and consequently more cheaply.
With Essentia, users can now stream, clean, and move massive amounts of data from their S3 data stores directly into a Redshift cluster, regardless of compression type. There is no need for generating intermediate files or writing complicated code.
Getting started is free and easy, with trial versions available via the Amazon Marketplace. To try it out, sign up for a free account at http://www.auriq.net/.
About AuriQ Systems, Inc.
Since its inception in 1996, AuriQ's goal is to help customers gain visibility into the key performance indicators critical to the success of their business. AuriQ's products help enterprises, datacenters, and e-businesses succeed by increasing revenue and reducing operation costs. More than 400 global enterprises, including many Fortune 500, have chosen AuriQ solutions to power their business.