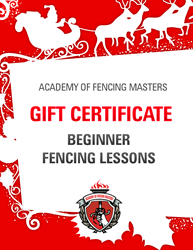 AFM holiday gift cards are $90 and cover a full set of Beginner fencing lessons: six classes over a three-week period
Campbell, CA (PRWEB) December 16, 2014
AFM is located in Campbell, CA with a state-of-the-art fencing facility, Olympic-level instructors, and a family atmosphere. It's a premiere club that takes great pride in teaching one of the oldest sports with noble roots from centuries ago. AFM gift cards are available quickly and can be ordered in time for holiday gifting.
AFM gift cards are $90 and cover a full set of Beginner fencing lessons: six classes over a three-week period. Gifts cards are available online and can be ordered to email or postal mail. To learn more about the academy, read about the coaches, or learn AFM's philosophy, visit their website at http://www.academyoffencingmasters.com.
About Academy of Fencing Masters:
Academy of Fencing Masters seeks to develop all levels of fencers, from beginners to Olympic athletes, through elite coaches, state-of-the-art facilities, and supportive community for both the fencer and the family. AFM prepares athletes for fencing and for life.