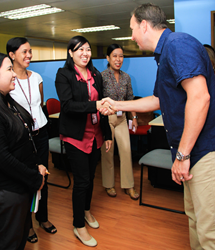 This project has worked as promised by DDC FPO. I am amazed at how smooth the transition has been
ATLANTA, Georgia (PRWEB) December 16, 2014
Clear Lane Freight Systems, an eco-friendly, economy long haul/LTL solution provider has just finished a six-week, 3PL bill processing rollout with its new back office transformation partner and leader in freight process outsourcing, DDC FPO.
Clear Lane leverages a comprehensive and sizeable long haul LTL network to provide exceptional customer service. As part of the contract, DDC FPO, a division of the business process outsourcing (BPO) worldwide network The DDC Group, is flexing its global footprint, expertise and technology to dedicate an industry-trained, scalable team solely to delivering around-the-clock bill entry processing and reporting services to the carrier.
The two parties were introduced by mutual partner Ben Wiesen of Carrier Logistics Inc., transportation software provider for Clear Lane, at the SMC3 Connections 2014 in Naples, FL.
"We began speaking to determine how we could make the process fit," said Tom Nagel, president and CEO of Clear Lane. "DDC then came back with a quote that was very attractive when compared to our existing processing costs."
According to Nagel, Clear Lane's process prior to DDC's intervention was dispersed and time-consuming. One of the primary factors they were looking forward to benefitting from was a reduction in the customer's waiting time: "It was an issue we were hearing loud and clear from our customers," said Tom.
The strongest factor of the deal, however, boiled down to keeping jobs in Indianapolis. "We did not have to cut any staff from our team," added Emily Nagel, Clear Lane's administrative manager. "Instead, we simply reallocated our resources to use our staff's time more wisely."
Since the rollout's completion, Clear Lane reports that their customers have observed stronger service. "This project has worked as promised by DDC FPO. I am amazed at how smooth the transition has been," explained Emily.
"As Clear Lane continues to succeed, we are happy to help ease some of the growing pain by ensuring back office functions are completed in the best possible manner," said Chad Crotty, vice president of sales for DDC FPO. " By eliminating the burden of juggling tasks with limited staff, Clear Lane can offer a better customer experience and focus on core competencies."
About Clear Lane
Clear Lane Freight Systems was founded in 2012 by LTL (less than a truckload) industry veterans Tom Nagel and Ingi Torfason. The goal was to fill a need for economical long haul LTL service. The business model is simple: utilize technology to build a non-asset based network using available capacity of regional LTL partners for reliable pickup and delivery service. The key to Clear Lane's growth and success has been its staff of dedicated transportation professionals, most with many years of experience with other carriers. Learn more at http://www.clearlanefreight.com.
About DDC FPO
DDC FPO is a division of The DDC Group, a worldwide network of BPO experts and solutions. With operations across North America, Europe and Asia-Pacific, DDC's 3,500-strong staff delivers services in over 20 languages with ahead-of-the-curve industry standards. DDC FPO's customized solutions currently process 20% of all LTL bills in the United States and equip each DDC client with long-term cost containment and profitability. For more information, visit: http://www.ddcfpo.com and http://www.theddcgroup.com.