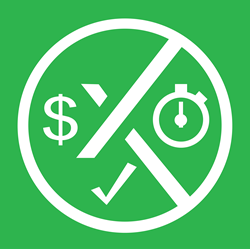 Our customers have expressed a desire to have web timers integrated into their employees' timesheets, so as always, we did it!
Toronto, Ontario (PRWEB) December 16, 2014
Nexonia Inc. announced today the launch of web timers, the latest Timesheets feature from the Nexonia line of products. Similar to the timer function on the Nexonia Timesheets mobile app, the web-based desktop version will allow users to track time spent on a variety of projects with an always-on clock running in the background.
Users of Nexonia's cloud-based online Timesheets application will now have the access to an unlimited number of timers, possibly assigning each embedded timer to a different customer, project, task and any other dimensions the customer requires. This intuitive new feature will allow employees to switch between timers as needed, automatically pausing time on certain projects when a new timer is started. Users will then be able to submit their accumulated work time on a project or projects for quick and easy approvals through Nexonia's flexible approval system.
"Our customers have expressed a desire to have web timers integrated into their employees' timesheets, so as always, we did it!" said Neil Wainwright, CEO of Nexonia. "The timer function was already a feature of the mobile app as a single timer, but Nexonia users will now be able to start, stop and submit several timers right from their desktop computer. We'll be updating our mobile apps as well, to support multi-timers. Our customers know what they want, and we work hard to deliver it to them!"
The new web timers are the latest feature of Nexonia's Timesheets, a hallmark application of the Nexonia line of products. Timesheets can also be fully integrated with Nexonia Time Off, designed to give customers the ability to track their employees' vacations, sick days and other paid time off.
Click here to watch the Nexonia Web Timers video online.
About Nexonia:
Nexonia Inc. is a provider of leading web and mobile Expenses, Timesheets, Time Off, Time Allocation, Purchase Orders, Accounts Payable and other business financial management solutions. Nexonia's simple-to-use and highly customizable applications are fully integrated with ERPs, credit cards and other systems supporting a variety of businesses. Nexonia solutions are designed to streamline the reporting and approval process, improve human resource management and enhance operational efficiency.
To receive more information, visit http://www.nexonia.com or call 800-291-4829.
Press Contact:
Jill Angelstad | jill(at)nexonia(dot)com | 647-498-7749