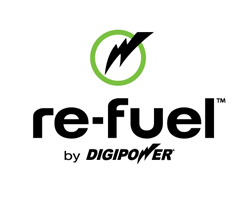 We want our customers to enjoy what they are doing, not spend valuable time waiting for a battery to charge. - John Elliott, Senior Product Manager
Avenel, NJ (PRWEB) December 17, 2014
Re-Fuel by Digipower is a series of power banks, chargers, and accessories for action cameras, particularly the GoPro Hero 3 series and GoPro 4. See the entire line at digipowersolutions.com and at the CES show in January! Re-fuel covers it all for action camera customers with portable chargers, replacement batteries, camera stabilizers, lens protectors, and a full line of Quik Pod products. The Re-Fuel product line can also be used with digital and video cameras and popular smartphones, too!
Re-Fuel is a professional collection of portable power sources and can be found at http://www.digipowersolutions.com. The chargers make life with a GoPro Hero and other action camera much easier, charging up to 3 batteries at once! Save valuable time by bringing along spare batteries for an action camera, rather than having to find an outlet, and then wait for a charge. The power banks are perfect for "on the go" charging, great to take along in your pocket or backpack. All the accessories are designed to make charge and power convenient for the action camera customer. Battery life is a critical element of the consumer experience with action cameras and smartphones, and Re-Fuel provides users with a means to carry a quick charge for extended activity.
Re-Fuel power products re-energize your devices wherever you are!
About Digipower: Since 1998, Digipower has pioneered the digital accessory category with strong industry insights and a commitment to unique product design and engineering. Digipower takes pride in introducing compatible, high performance accessories to the mobile computer, wireless and imaging enthusiast.
Digipower continues to strive to explore new solutions in the consumer electronics industry in an effort to support the growing world of portable digital products. Innovations like the TC-55 Digital Camera Travel Charger Series have revolutionized the imaging industry by eliminating the concern of portability and brand compatibility. Digipower is a division of Mizco International. Headquartered in Avenel, New Jersey. Mizco International is one of the world's fastest growing suppliers of mobile phone headsets and accessories, as well as imaging, Smartphone and iPhone power solutions. Founded in 1990, the Mizco family of brands includes Digipower, iEssentials, Travelocity, Ecko Unlimited, Tough Tested, NFL, MLB, and NHL.