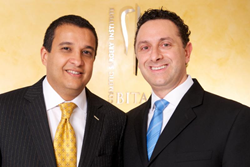 "I am so happy to be able to offer hair transplants to our patients.
Fairfax, VA (PRWEB) December 16, 2014
The Bitar Cosmetic Surgery Institute, a top plastic surgery practice with 2 locations in Fairfax and Manassas, Virginia, have introduced the addition of Hair Transplants or Follicular Unit Extraction (FUE) to the practice's list of services and treatments. With the recent addition of a hair transplant treatment room to their state-of-the-art office in Fairfax, the practice is now equipped to treat men and women looking to regain hair loss caused by a wide range of conditions including male pattern baldness, after facelift or brow lift hair loss, alopecia, and acid hair burns caused by weaves or perms.
"I am so happy to be able to offer hair transplants to our patients," said Dr. George Bitar, Board Certified Plastic Surgeon and Medical Director at Bitar Cosmetic Surgery Institute. "With the development of Follicular Unit Extraction, we can now create a much more natural result for patients. The days of barbie doll hair plugs are over. I have been watching this field develop and improve since my fellowship training with Dr. Pitanguy in Rio de Janeiro, the world's preeminent plastic surgeon, where I first learned about hair transplantation. I waited for the right time to make our entrance into the field, and that time is now."
Hair transplant patients will be treated by a team led by Dr. Bitar which includes highly trained and experienced technicians, nurses, medical assistants, and patient care coordinators. Patients will be treated in an environment designed specifically for their treatment and care, making the overall experience as pleasant and comfortable as possible.
What is Follicular Unit Extraction?
Follicular Unit Extraction – FUE is a hair harvesting method of hair transplantation surgery in which individual natural hair groupings called follicular units – FU are removed by surgically separating them one by one from their natural location which is typically the back and sides of the head. Then the hair is planted, resulting in a natural-looking coverage of hair in the bald area and avoidance of linear or punch-graft-scarring in the donor area. Because the extraction wounds are tiny, they typically heal with cosmetically insignificant scars.
FUE enables the patient more hair grooming options including shorter haircuts without the fear of exposing a linear scar. The fear of exposing a linear scar is a concern for patients that undergo follicular unit strip surgery (FUSS); in most cases of FUSS, hair in the back and front must be kept long to conceal the linear scar, with anxiety about exposing the scar in windy and swimming situations. The FUE procedure minimizes visible scarring and achieves cosmetically aesthetic results via the tiny punch grafts.
The Hair Restoration Market Today
According to research conducted by the International Society of Hair Restoration(ISHRS), the market for hair restoration has increased 47.9% since 2008, with 35 million men and 21 million women in the U.S. experiencing hair loss. The US market accounts for 45% of all hair transplant surgeries, with Asia being second with 25% market share and Europe third with only 13%.
About The Bitar Cosmetic Surgery Institute
The Bitar Institute was established in 2002 by Dr. George Bitar, an award- winning board certified plastic surgeon. The Bitar Institute is a multi-location institute with a highly trained staff that is fluent in Spanish, French, Arabic and English, offering safe and effective treatments ranging from skin care to cosmetic surgery. The Institute's philosophy is image, beauty, and transformation to promote self-confidence and a healthy lifestyle via modern med spa services, skin care, and cosmetic surgery.
Dr. George Bitar, MD, FACS
Dr. George Bitar is an award winning board certified plastic surgeon that has performed over 10,000 cosmetic facial and body procedures. Dr. Bitar completed an Aesthetic International fellowship in Beverly Hills, Rio de Janeiro, Paris, London, New York, South Africa and Australia. Dr. Bitar has also been listed as a top plastic surgeon in the USA by Castle-Connolly. He has been named Washingtonian Magazines' Top Plastic Surgeons, and Top Plastic Surgeon by Northern Virginia Magazine and Health and Beauty Magazine. He has been featured on television shows including Healthline, The Prudent Advisor and WUSA Channel 9. Dr. Bitar earned his medical degree from George Washington University School of Medicine and completed his plastic surgery residency at the University of Virginia.
Dr. Robert Centeno, MD, FACS, MBA
Dr. Robert F. Centeno is a board certified Plastic Surgeon with subspecialty fellowship training in Aesthetic Plastic Surgery. Dr. Centeno graduated from the MCP Hahnemann School of Medicine, Drexel University and completed his General Surgery residency training at the Graduate-MCP Hahnemann University Hospital. During medical school he completed a Master's Degree in Business Administration from the Wharton School of the University of Pennsylvania. His Plastic Surgery residency was completed at the Barnes-Jewish Hospital-Washington University in St. Louis School of Medicine where he served as administrative chief resident and fellowship training in Aesthetic Plastic Surgery at the prestigious Manhattan Eye, Ear & Throat Hospital-New York University School of Medicine, the nation's busiest cosmetic surgery center.
Media Contact:
For more information or to schedule an interview please contact:
Judi Campbell
Marketing Director
The Bitar Cosmetic Surgery Institute
3025 Hamaker Court, Suite 109
Fairfax, VA 22031
703-206-0506