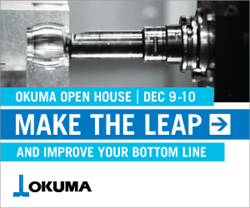 Charlotte, NC (PRWEB) December 18, 2014
Okuma America Corporation, a world-leader in CNC machine tool manufacturing, hosted more than 500 customers, partners and distributors at its 2014 Technology Showcase event on December 9-10, 2014 in Charlotte N.C. This two-day event featured a wide array of learning opportunities for attendees featuring hands-on demonstrations, App Store and machine demos, a facility tour highlighting titanium machining at the new Aerospace Center for Excellence, and a behind-the-scenes look at Okuma's electrical and mechanical repair operations.
The theme of this year's event, "Make the Leap," included demonstrations of simple technology upgrades that enable users to quickly jump ahead of their competition and enhance the productivity of their CNC machines and operators, thus improving overall profitability. For each technology shown, a side-by-side demonstration of basic vs. advanced machine functionalities and the benefits that can be gained by leaping into higher technology were featured.
The demonstrations were relevant to a wide variety of industries, including aerospace, automotive, construction/farming (heavy equipment), die/mold, firearms/munitions, medical, oil/energy, and general job shops.
Members of Partners in THINC demonstrated how peripheral equipment such as tooling, gaging, workholding and automation can be integrated with Okuma technology to improve productivity.
"Make the Leap" CNC Machine Demonstrations
Each side-by-side demonstration gave attendees tips on how they can use advanced CNC machine technology to create a competitive advantage in their marketplace. Examples included:

2-axis vs. 4-axis Lathes – side-by-side cutting demonstration of Okuma's LB EX-II and LU EX lathes show how a 4-axis CNC lathe can easily combine operations to reduce cutting time, improve quality, enhance flexibility and increase throughput
VMC vs. HMC – how a horizontal machining center increases overall throughput, improves quality and reduces labor, WIP and floor space, all without significantly increasing capital budget
The Okuma App Store – Machine tool apps can significantly impact the effectiveness and efficiency of machine tools – yes, there IS an app for that!
Attendees were able to see more than 20 CNC machines cutting parts, many of which debuted at IMTS 2014. Machines on display included:

MA-12500H horizontal machining center – debuted at IMTS 2014
MU-10000H 5-axis horizontal machining center – Okuma's largest 5-axis machine
MULTUS U Series – Okuma's newest multitasking CNC machines
Okuma's "Affordable Excellence" products – GENOS CNC lathes and machining centers, LB3000 EX-II and MB-5000H machining centers – functionality at an affordable price
Guests also enjoyed a special dinner at the NASCAR Hall of Fame in Charlotte where they competed in a driving simulator and in a pit crew challenge and were given the opportunity to explore the history of the sport of NASCAR.
About Okuma America Corporation
Okuma America Corporation is the U.S.-based sales and service affiliate of Okuma Corporation, a world leader in CNC (computer numeric control) machine tools, founded in 1898 in Nagoya, Japan. The company is the industry's only single-source provider, with the CNC machine, drive, motors, encoders, spindle and CNC control all manufactured by Okuma. Okuma's innovative and reliable technology, paired with comprehensive, localized service protection, allows users to run continuously with confidence – maximizing profitability. Along with its industry-leading distribution network (largest in the Americas), and Partners in THINC, Okuma facilitates quality, productivity and efficiency, empowering the customer and enabling competitive advantage in today's demanding manufacturing environment. For more information, visit http://www.okuma.com/ or follow us on Facebook or Twitter @OkumaAmerica.
About Partners in THINC
Partners in THINC is a collaboration network of more than 40 industry leaders who come together to solve problems and explore new productivity ideas for real-world manufacturers. With the open architecture, PC-based THINC®-OSP control as its nucleus, Partners in THINC brings specialized equipment, expertise and a commitment to provide the best possible integrated solutions to the end-user. For more information, visit http://www.okuma.com/partners-in-thinc.
###