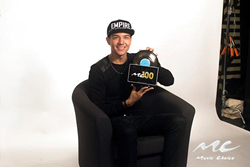 New York, NY (PRWEB) December 16, 2014
Music Choice will celebrate the top Latin songs of 2014 with the multi-platform video and music network's special called "MC 100 Latino." Videos from the top Latin artists including Enrique Iglesias, Pitbull, Romeo Santos, Prince Royce, J Balvin, Larry Hernandez and many more will be available on Music Choice On Demand starting December 22nd and run through January 4, 2015. Videos can be found on Music Choice On Demand/Latino.
Music Choice's annual "MC 100 Latino" is a curated collection representing the biggest songs and videos that have aired over the past year across all Music Choice platforms, including MC's Music Channels (Mexicana, Pop Latino, Musica Urbana and Tropicales) and Video On Demand platform (Banda, Bachata, Musica Urbana and Pop Latino). Several artists such as Prince Royce, Banda Carnaval, La Arrolladora Banda El Limón, Gerardo Ortiz, Wisin, and others appear on the list more than once while new solo artists Luis Coronel and Karlos Rose have landed their first distinction on this year's list. Directional: Music Choice On Demand/Latino
MUSIC CHOICE "MC 100 Latino" TOP 25:
1. Enrique Iglesias- "Bailando"
2. Banda Carvaval-"La Historia De Mis Manos"
3. Romeo Santos- "Eres Mia"
4. Luis Coronel- "Tenerte"
5. Banda Los Recoditos – "Hasta Que Salga El Sol"
6. Julión Álvarez Y Su Norteño Banda - Y Así Fue
7. Carlos Vives- "Cuando Nos Volvamos a Encontrar"
8. Nicky Jam –"Travesuras"
9. J Balvin – "6am"
10. Prince Royce- "Soy El Mismo"
11. Banda Carnaval- "El Magnate"
12. Chino Nacho – "Chica Ideal"
13. Larry Hernández - Ojalá Que Te Vaya Mal
14. Nicky Jam – "Voy A Beber"
15. Marc Anthony- "Cambio De Piel"
16. Banda Tierra Sagrada- "La Buena Y La Mala"
17. La Arrolladora Banda El Limón - "A Los Cuatro Vientos"
18. Tito El Bambino – "A Que No Te Atreves"
19. Fidel Rueda- "Me Voy De Ti"
20. Banda El Recodo De Cruz Lizárraga - Vas A Llorar Por Mí
21. Los Tigres Del Norte- "La Bala"
22. Karlos Rosé - Niña De Mi Corazón
23. Pitbull- "Como Yo Le Doy"
24. Chino y Nacho - Tú Me Quemas
25. Calibre 50- "El Inmigrante"
Unlike other "Best of..." or year-end round up lists, Music Choice's "MC 100 Latino" is aggregated using Music Choice's extensive data impressions from TV, online and viewer interactions as monitored via Nielsen, Mediabase and Rentrak. Mirroring Music Choice's consumer experience, a song's ranking on the "MC 100 Latino" list is determined by the number of MC Video On Demand orders by users, its rotation on MC Music Channels, viewer interactions, the artist's impact in their respective genre and Latin culture through social media. With over 57 million listeners and 1.1 billion annual video views, Music Choice is the ultimate destination for the best in music and video content and illustrates what songs and videos consumers actually want to hear or see rather than what programmers tell them they should hear or watch.
For more information about Music Choice log onto http://www.musicchoice.com
About Music Choice:
Music Choice, the multi-platform video and music network, delivers its music programming to millions of consumers nationwide through their televisions, online and mobile devices. Music Choice programs dozens of uninterrupted music channels; produces originals that feature today's hottest established and emerging artists; offers thousands of music videos; and launched Music Choice Play, the music video, lifestyle and entertainment network for Millennials. For additional information log on to http://www.MusicChoice.com | Twitter: @MusicChoice | Facebook: http://www.facebook.com/MusicChoice