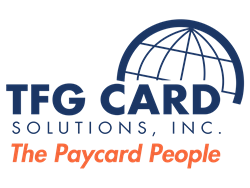 I knew the team would do a great job, but what they delivered is, quite frankly, astonishing.
PORTLAND, Ore. (PRWEB) December 17, 2014
In the spirit of the holidays, TFG Card Solutions chose to host a food drive for The Oregon Food Bank as the first initiative of its corporate giving program. The Oregon Food Bank provides emergency food to people who are hungry through a cooperative statewide network of hunger-relief agencies, helping 1 in 5 households fend off hunger.
To make things interesting, it split the entire office into two teams and held a competition to see which team could bring in the most food items the week leading up to its corporate holiday party. The team captains were Lucy Vega, office manager and Monica Herrera, sales coordinator. The team captains creatively inspired their teams each day to get the most cans to support the food drive. The results were amazing.
"Most of the individuals in our office have a passion for their separate charities and giving back to their communities. We wanted to bring the company together as a team and work to support charities across the city as a whole. Our new corporate giving program is the perfect way to do so. When we started the food drive for the Oregon Food Bank I knew the team would do a great job, but what they delivered is, quite frankly, astonishing. I can say without hesitation that I have never been more proud of our team," said TFG's President Tom Secor.
The results of its food drive were outstanding with Vega's team winning and bringing in 1,261 food items and Herrera's team coming in at a very close second with 1,071 food items. Of course, the real winner of all of this was The Oregon Food Bank who received 2,332 items in total to help fight hunger. TFG's official contribution weighed in at 1,871 pounds, enough to feed hundreds of people.
If you or your business wishes to donate to The Oregon Food Bank, visit http://www.oregonfoodbank.org/ for more information.
About TFG Card Solutions, Inc.
TFG offers payroll prepaid card solutions that help businesses of all sizes increase direct deposit participation, maximizing their current direct deposit system and empowering unbanked employees. Payroll prepaid cards save companies money by cutting costs in check printing and shipping, and help employees eliminate use of inconvenient and expensive check-cashing stores. For more information, visit http://www.tfgcard.com.
This card is issued by The Bancorp Bank pursuant to a license from Visa U.S.A. Inc. The Bancorp Bank; Member FDIC. Card may be used everywhere Visa debit cards are accepted.