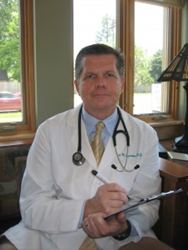 Naperville, IL (PRWEB) December 15, 2014
Patients who are suffering from the uncomfortable and embarrassing effects of missing teeth can now receive technologically advanced implant dentistry treatments in Naperville, IL, from Dr. Kaz Zymantas. Dr. Zymantas now offers an innovative technology called Cone Beam Imaging to assist in the placement of dental implants. This technology makes it possible to see the various structures in the mouth with amazing clarity while exposing the patient to up to 10x less radiation than a traditional x-ray.
There are many situations that can lead to the loss of one or more teeth throughout a person's lifetime. Accidents, tooth decay, gum disease, and old age are just a few common causes of lost teeth. When missing teeth are not replaced, the patient's bite often starts to change because adjacent teeth will shift in order to partially fill in the holes where the missing teeth were once located. Additionally, the roots of natural teeth no longer stimulate the jawbone beneath empty sockets, which means that it is more susceptible to degradation over time.
Individuals who want to avoid the complications that come from leaving empty tooth sockets unfilled are encouraged to receive dental implants as soon as possible. Dr. Zymantas seeks to make implant dentistry in Naperville, IL, as effective and safe as possible with the use of Cone Beam Imaging technology. Unlike traditional x-rays, Cone Beam Imaging systems minimize the amount of radiation that a patient is exposed to. Cone Beam Imaging is also quicker and less expensive than traditional x-rays.
Cone Beam technology can be utilized in many different dental procedures, but it is particularly helpful for dental implant placement because it shows all of the structures in the mouth in 3D and yields impressive high-definition images. The images generated by Cone Beam make it possible for dental professionals to make the most informed decision regarding implant placement and treatment options.
Patients who want to take advantage of the many benefits of implant dentistry in Naperville, IL, are invited to schedule an appointment with Dr. Zymantas to find out if they are eligible to receive dental implants placed with Cone Beam Imaging assistance.
About The Doctor
Dr. Kaz Zymantas is a general dentist offering personalized dental care for patients in Naperville, IL for over 30 years. Dr. Zymantas received his Doctor of Dental Surgery from the University of Illinois and has earned a fellowship in the American Academy of General Dentistry, an honor belonging to only three percent of dentists in the world. Dr. Zymantas is part of one percent of dental professionals providing the LANAP FDA cleared laser procedure for gum disease and periodontal treatment. To learn more about Dr. Zymantas and his dental services visit his website at http://www.lanapnaperville.com.