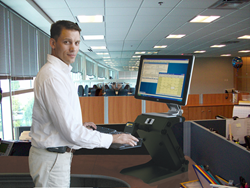 One of our major clients discovered their (HealthPostures) products and made them a standard offering in their offices. That led to further exposure among our sales staff and the demand has risen quickly
Burnsville (PRWEB) December 17, 2014
HealthPostures a sit-stand solutions designer and manufacturer, announces that it has secured a new vendor partnership with Target Interiors, a wholly owned subsidiary of the United States' headquartered retail giant, Target. HealthPostures has been developing innovative ergonomics designs like sit-stand workstations for nearly two decades. More major retailers are selling HealthPostures' solutions in part because benefits associated with the firm's designs have been gaining traction.
A large reason for the growing popularity of sit-stand solutions is revealed in a study conducted by Harvard researchers. More than 92,000 adults were part of the study. During the study, the researchers discovered that sitting for extended periods can contribute to chronic conditions like heart disease, diabetes, cancer and obesity. Considering that many adult workers sit for nine to 14 hours a day, taking action to improve workers' health is viewed as a significant forward step.
Unlike other ergonomics products, HealthPostures' sit-stand solutions give users the option to sit or stand, increasing worker mobility throughout the day. Dealers who have entered into partnerships with HealthPostures are located throughout the United States. When asked why Target Interiors entered into a vendor partnership with HealthPostures, John Jurgensen, Target Interiors' Director of Marketing, shared that, "One of our major clients discovered their products and made them a standard offering in their offices. That led to further exposure among our sales staff and the demand has risen quickly."
In addition to offering improved mobility for commercial customers, Target Interiors expects the new partnership to provide its customers increased employee engagement and productivity. Specifically, Jurgensen said that, "Employee health and well-being are major issues in today's office. The request that shows up often on employee surveys is a desire for choice and control over their working environment. A key feature is user-adjustability to the height of the technology they interact with all day."
Jurgensen continued, "One solution is to make the entire work surface easily adjustable from sit to stand height. But if budgets preclude implementing that solution across the company, the adjustable solutions that HealthPostures offers are very cost effective and efficient."
Major office solutions that HealthPostures has developed include the 6100 TaskMate Executive, the 5050 Stance Move and 6300 TaskMate Go. Industrial solutions that HealthPostures has created include the 6450 TaskMate EZ Surface, 6453 TaskMate EZ Clamp and the 5010 Stance Move Seat. The firm's clients operate in a broad range of industries, including healthcare, government, call center, office and industrial.
About HealthPostures
HealthPostures LLC (https://healthpostures.com) builds rehabilitative and ergonomic equipment that helps people to stay healthy while they work. The firm has been designing and manufacturing ergonomic sit stand solutions since 1996. Part of the company's mission is to "strive to provide quality products that will help transform your sedentary life so you have a healthy way to work." Office solutions sit stand products Health Postures designs and manufactures include dual monitor sit stand work stations, adjustable mouse stands, dual monitor arm accessories, Stance move seat extensions, industrial surface Taskmates and Stance Move chairs.
Contact:
HealthPostures LLC
14310 Ewing Avenue South, Suite 100
Burnsville, MN 55306
800-277-1841
https://healthpostures.com
About Target Interiors
Target Interiors is a wholly owned subsidiary of the retail giant, Target. The subsidiary provides design, research and development, asset and order management, facility, installation and space planning and project management services to customers in the commercial space. Areas that Target Interiors specializes in are work, healthcare, hospitality, education, sports and community. Products that Target Interiors sells to commercial customers include furniture and accessories. The company has been serving clients for more than 60 years; it's offerings span across more than 300 manufacturers.
Contact:
Target Interiors
81 South 9th Street, Suite 350
Minneapolis, MN 55402
888-333-4664
http://www.targetcommercialinteriors.com
Sources:
http://www.targetcommercialinteriors.com
http://www.bostonglobe.com/lifestyle/health-wellness/2014/11/03/yes-sitting-work-bad-but-standing-actually-better/7ceei6fb0B7QjgAH3FlOrK/story.html