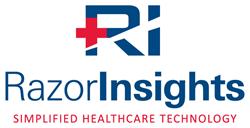 "2014 has been a dynamic year as we have grown both internally and externally as a company," said Reed Liggin, president of RazorInsights.
ATLANTA, GA (PRWEB) December 16, 2014
Rounding out the year, RazorInsights, a leading provider of health IT solutions for rural, critical access and community hospitals, announced today that the company has doubled its client base, increased revenue by 200 percent and received top industry recognition throughout 2014.
RazorInsights' nationwide customer base expanded to include seven new states this year including Iowa, Idaho, Kentucky, Louisiana, Nebraska, Nevada and Texas. With these additions the company now has a presence in 14 states. New clients include:
Faith Community Hospital – a 41-bed acute care hospital located in Jacksboro, Texas. The hospital implemented RazorInsights ONE-Electronic Health Record® in June before attesting for Stage 2 meaningful use. As a result of RazorInsights' Meaningful Use Dashboard, a scorecard within its ONE-EHR, the hospital was one of the first in the nation to receive the Stage 2 certification this past October.
Kimball Health Services – a state-of-the-art 20-bed critical access hospital and rural health clinic located in Kimball, Neb. The hospital's implementation project manager, Kim Daughdrill, states, "RazorInsights cloud-based system is providing Kimball Health Services with the opportunity to improve its quality of patient care as well as decrease costs for the hospital. It is also improving the connection and workflow between Kimball hospital, its clinic and the new KHS Potter Clinic."
In addition to its new clients, RazorInsights welcomed 80 full-time employees during the year. Further, the company's leadership deepened with the addition of veteran health IT executives Kraig Brown, who joined the team as CEO, and Carl Schneider who was named senior vice president of sales.
With more than 20 years of industry experience, Brown helps implement the founders' vision, while continuing to build a team of industry experts, and elevating RazorInsights to its next level of growth. Prior to RazorInsights, he worked as chief operating officer for DocuTAP, a rapidly growing EHR/PM in the urgent care space. Schneider previously led sales teams at HMS and CSS, both of which are in the community hospital space.
Throughout the year, both RazorInsights technology and leadership team has been recognized by the health IT and business industries. Since October, the company has been named a Medical Economics Top 50 EHR, one of CIO Review's "20 Most Promising IT Vendor Solutions" and won the Fierce Health Innovation Award for Top EHR. The company's president and CEO were also recognized by their alma mater by being named to the 2014 Bulldog 100, which honors the 100 fastest-growing businesses owned or operated by University of Georgia alumni.
"2014 has been a dynamic year as we have grown both internally and externally as a company," said Reed Liggin, president of RazorInsights. "The most rewarding of all has been seeing our clients improve their workflow and deliver the utmost quality of care to their patients through our cloud-based EHR. As we look forward to 2015, our goal remains the same - to support rural, critical access and community hospitals and the communities they serve."
To learn more about RazorInsights' EHR solutions please visit http://www.razorinsights.com.
###
About RazorInsights:
Based in metro Atlanta, RazorInsights is a dynamic healthcare information technology company recognized as top 20 Most Promising Healthcare Solution and a Top 50 EHR. In keeping with the principle of Occam's Razor, it has created a simplified HIS solution for rural, critical access and community hospitals. Introducing ONE — a single-database, cloud solution offering a simple user experience with cutting-edge clinical tools and industry-standardized data. Dozens of hospitals across America use ONE to improve their performance and bottom line, which keeps local communities healthier. For more information, visit http://www.razorinsights.com, follow @RazorInsights on Twitter or call 770-308-4111.