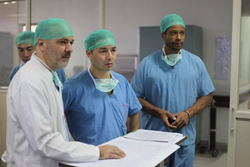 We have committed to help develop the first pediatric heart transplant program in India in 2015
New York, NY (PRWEB) December 15, 2014
"We started to organize this medical mission to India one year ago," says Dr. David Luu, founder of The Heart Fund. "We chose India because of its highest number of pediatric heart diseases in the world. 250,000 children are born every year with a heart defect, most of them cannot be treated."
Children and their families travelled an average of 7 hours by train or bus to reach the AMRITA Hospital in Kochi, in the south of India.
"In 6 days, our team of doctors performed 10 open-heart surgeries and 10 mini-invasive endovascular procedures in collaboration with the local doctors," says Dr. Luu. "All the children are doing fine and families are very grateful for this life-changing opportunity."
More than 1,000 children are still on the waiting list for heart surgery, and some of them will need a heart transplant to survive.
"We have committed to help develop the first pediatric heart transplant program in India in 2015, by bringing expertise and equipment such as heart-lung bypass machine (ECMO)," says Dr. Luu.
Dr. David Luu has joined with Dr. David Greuner and Dr. Adam Tonis of NYC Surgical Associates to expand their philanthropic efforts worldwide. They share a passion for philanthropy and have informally merged their charitable organizations, NYC Surgical Cares and The Heart Fund to implement a worldwide screening program for the prevention of cardiovascular disease.
"We are combining our philanthropic efforts and utilizing our resources to make a greater impact," says Dr. Greuner.
The doctors are also co-founders of NYClinic in New York, dedicated to promoting non-invasive screening, risk assessment and public awareness of the four most preventable risks of cardiovascular morbidity and mortality, even in asymptomatic patients: sudden death from heart disease, stroke, Deep Vein Thrombosis and Pulmonary Embolus, and Peripheral Vascular Disease. For more information visit http://www.theNYClinic.com, http://www.facebook.com/theheartfund and http://www.nycsurgicalcares.org