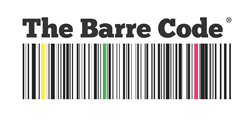 Sweat, strengthen, restore, and live by the Barre Code.
Dallas, TX (PRWEB) December 17, 2014
Dallas resident Kiersten Bond has opened a small women's fitness boutique called The Barre Code, at Lovers Lane and the Tollway. The Barre Code is a franchise with the corporate office based in Chicago. The co-founders Jillian Lorenz and Ariana Chernin, opened their first studio in Chicago's River North neighborhood in 2010 and has since grown its presence nationwide. The Barre Code has been featured in Forbes, Entrepreneur, Inc., Self and Glamour, just to name a few.
The Barre Code is taking women's workouts to the next level with various fitness classes that include cardiovascular conditioning, strength training and restoration all in one place.
The Barre Code is the most efficient and results-driven women's fitness program, with ever changing routines, new props and customized playlists and lighting. The Barre Code classes are a full-on fitness experience. Each class can be tailored to meet various fitness levels. The Barre Code is for anyone wanting a fun, fast paced, effective workout.
Kiersten has always been interested in health and fitness. She was involved in competitive cheer and track in her younger days and carried her love of health and fitness into selecting her college degrees. Kiersten holds a BA in public health promotion and pre-medicine from Purdue University and a Masters in health sciences from The University of Alabama. Kiersten taught barre classes for two years while in Alabama but sought a program that went beyond the barre, thus she found and fell in love with The Barre Code. While teaching personal health classes at the University of Alabama, Kiersten trained to become a master trainer in Chicago and began the process of opening her own Barre Code studio.
Kiersten is very excited to bring this amazing women's fitness program to the Park Cities area. She welcomes women of all fitness levels and ages, to come in and try the multiple class types offered. Each month Kiersten is offering no cost community classes to give the community an opportunity to see why this is the most effective fitness program out there.
For more information regarding The Barre Code Dallas – Highland Park, please contact Kiersten at highlandparktx(at)thebarrecode(dot)com or visit our Facebook https://www.facebook.com/TheBarreCodeHighlandPark
The Barre Code Dallas – Highland Park
5757 West Lovers Lane
Suite 350
Dallas, Texas 75209
214-353-9900
(Schedule a class)