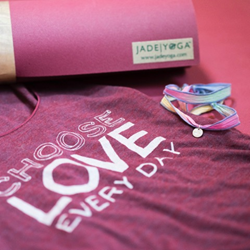 Charlotte, NC (PRWEB) December 16, 2014
YogaVibes, the premium source for streaming online yoga classes and free yoga videos, has partnered with leading yoga-inspired brands to launch a fabulous holiday giveaway via Instagram featuring prizes from JadeYoga, Asha Brands, Inner Fire Apparel and HighChi Energy.
This photo contest inspires participants to move self-nurturing and self-love to the top of their Christmas lists in an effort to counter the all-too-common overwhelm and stress of the holiday season.
To enter is simple:

Participants must share a photo and a short description on Instagram featuring a self-nurturing practice that brings forth personal joy! Maybe it's a yoga-inspired practice, but it doesn't have to be.
Participants must follow and mention all giveaway sponsors: @yogavibes, highchienergy, @jadeyogamats, @myinnerfire and @ashabrands.
The photo must be tagged with #HolidaySelfLove.
One lucky yogi will be the winner of a fabulous prize pack including:
A 1-Year Subscription to YogaVibes (complete with access to 5,500+ yoga classes online)!
A Self-Love Energy Bracelet by HighChi Energy Jewelry.
A "Choose Love Everyday Tank Top" by Asha Brands and Inner Fire Apparel.
An Eco-Friendly, Non-Slip JadeYoga Mat.
The #HolidaySelfLove Giveaway will be running until December 20th, 2014. Hurry up and toss in one entry (or more!) for a chance to win these awesome yoga products!
ABOUT YOGAVIBES
Looking for the best online yoga? Look no further! YogaVibes is the premium source for streaming online yoga classes and free online yoga videos. Hosting a vast selection of yoga videos from the best yoga teachers in the world, YogaVibes makes learning and living yoga easy in everyday life. No more worries about making it to class on time. YogaVibes takes the stress out of finding time for yoga. Stream yoga online at the office, at home, at the airport...wherever and whenever! Sweat, stretch, explore, unwind or bliss out. Subscribe now.