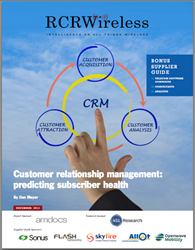 Mobile operator focus on CRM has increased in recent years due to growing saturation in many markets. The 'low-hanging fruit' excuse of just picking up new subscribers to replace those that might flee has been eliminated.
(PRWEB) December 16, 2014
RCR Wireless News spoke with more than a dozen companies, including mobile operators U.S. Cellular and C Spire, vendors like Amdocs and Salesforce.com and industry analyst firms 451 Research and Analysys Mason to gain deep insight into the current CRM market. The report, entitled "Customer Relationship Management: Predicting Subscriber Health" contains vital takeaways including how mobile operators are tapping into CRM platforms to fight churn; the advances vendors are implementing into their solutions in order to support customer efforts; and the growing importance of social media is having on CRM. These efforts are going to be further challenged as mobile operators move to transition core voice services to IP-based data networks.
Download this report to learn:

How CRM fits into customer care
Market potential for CRM vendors
How mobile operators are using CRM platforms to keep customers happy
How network virtualization is impacting the CRM space
The impact social media is having on CRM and how the industry is adapting
Watch the complimentary editorial webinar featuring:

Dan Meyer, Editor-in-Chief, RCR Wireless News
Sheryl Kingstone, Director, Research, 451 Research
Nibha Aggarwal, Senior Director, Amdocs
"While analysts have highlighted the significant growth potential of the CRM market, there remain numerous challenges for both vendors and mobile operators," Meyer explained. "One of the most interesting was also one of the most basic: consistency. Several people I talked with noted that mobile operators can have a very positive impact on customer health by just providing a single message across all of their interactions. If a customer gets one story from an in-store representative, they should get that same story if they call into a call center or interact with a carrier via social media channels."
Social media was a significant focus of the report, as consumers continue to flock towards social media channels like Facebook and Twitter for interaction with their mobile operator. While social integration would seem to be a simple process, mobile operators, vendors and industry analysts noted the challenges embedded with such moves, which have in the case of some operators prevented them from fully embracing social media efforts.
"Social media remains a bit of a conundrum for the CRM market," Meyer added. "The opportunities inherent in tapping social media channels for near-real time interactions with customers cannot be dismissed. However, the anonymous nature of social media creates a significant challenge in terms of how they authenticate who is a real customer and deal with the privacy issues tied into authentication. Social is indeed a challenge that the CRM market is going to have to continue fighting as the opportunities are too significant to ignore."
Click here to download the CRM feature report.
About RCR Wireless News
Since 1982, RCR Wireless News has been providing wireless and mobile industry news, insights, and analysis to industry and enterprise professionals, decision makers, policy makers, analysts and investors. Our mission is to connect, globally and locally, mobile technology professionals and companies online, in person, and now on video. Our dedication to editorial excellence coupled with one of the industry's most comprehensive industry databases and digital networks leads readers and advertisers to consistently choose RCR Wireless News over other industry publications. http://www.rcrwireless.com