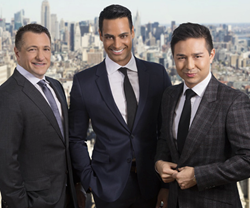 New York, NY (PRWEB) December 15, 2014
An international team of heart surgeons has joined together to create NY Clinic, dedicated to promoting painless, noninvasive screening at accredited facilities at multiple locations with cutting edge ultrasound technology," says Dr. David Greuner, a leading cardiovascular surgeon and cofounder of NY Clinic and NYC Surgical Associates. "The public needs to be better informed of the risks and enormous cost of cardiovascular disease," says Dr. Greuner.
Dr. Adam Tonis. co-founder of NY Clinic also serves as the Chief Operating Officer for NYC Surgical Associates.
Joining Dr. Greuner and Dr. Tonis in the creation of NY Clinic is Dr. David Luu, a renowned heart surgeon based in Paris, France. The Founders share a passion for philanthropy and have informally merged their charitable organizations, NYC Surgical Cares and The Heart Fund to implement a worldwide screening program for the prevention of cardiovascular disease. "We are combining our philanthropic efforts and
utilizing both of our resources to make a greater impact," says Dr. Luu.
NY Clinic will be offering specialty medical services, imaging and diagnostics, and laboratory testing at each clinic location. The clinics will also offer an Executive Health Program including preventive medicine, health management, life coaching and corporate wellness services. The Check-Up Executive service will provide cardiovascular screening and comprehensive testing.
The Private Medical Club at NY Clinic will feature exclusive services for members to provide important health advantages, accessible through a worldwide network of medical professionals.
For more information on NY Clinic call 888-286-6600. Visit TheNYClinic.com
Media Contact: Gary Grasso, Director - Doctor's P.R.
+1 (626) 222-7955 Email ggrasso(at)doctorspr(dot)com
####