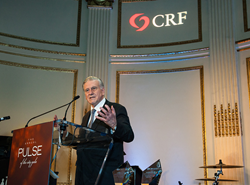 New York, NY (PRWEB) December 15, 2014
The Cardiovascular Research Foundation(CRF) honored Valentin Fuster, MD, PhD, at its annual Pulse of the City Gala for his contributions to cardiovascular research and education. Antonio M. DeMaria, MD, was also honored.
The CRF gala, held on December 12 at the Plaza Hotel, honored Dr. Fuster, Director of Mount Sinai Heart and Physician-in-Chief of The Mount Sinai Hospital, for his career-long dedication to training the thought leaders of tomorrow, which has led to improved outcomes for patients worldwide.
"I thank the Cardiovascular Research Foundation for this award, all my colleagues who help me fulfill my dreams day-to-day, and especially I thank my family which is always number one," says Dr. Fuster, who is Editor-in-Chief of the Journal of the American College of Cardiology (JACC). "It is fantastic when you feel supported on a daily basis."
"Dr. Fuster is a leader in the ongoing revolution in clinical and scientific research, with a true passion for heart disease prevention and a champion for eradicating heart disease," says Roxana Mehran, MD, Chief Scientific Officer of the CRF Clinical Trials Center and Director of Interventional Cardiovascular Research and Clinical Trials at Icahn School of Medicine at Mount Sinai. "He is a dedicated and highly-regarded mentor of hundreds of fellows, a luminary of clinical excellence, and a role model for those in cardiovascular medicine," says Dr. Mehran, who introduced Dr. Fuster at the CRF gala.
Dr. Fuster is a past president of both the American Heart Association and the World Heart Federation. He is a member of the Institute of Medicine of the National Academy of Sciences, where he serves as chair of the Committee on Preventing the Global Epidemic of Cardiovascular Disease, and a member of the National Heart, Lung and Blood Institute. Dr. Fuster is also President of the Training Program of the American College of Cardiology.
In addition, 33 distinguished universities throughout the world have granted him honorary doctorate degrees. Dr. Fuster is an author of more than 900 research articles on the subjects of coronary artery disease, atherosclerosis, and thrombosis, and he has published two leading books on clinical cardiology and research: The Heart and Atherothrombosis and Coronary Artery Disease.
About the Cardiovascular Research Foundation
Since its inception in 1991, the Cardiovascular Research Foundation (CRF) has played a major role in realizing dramatic improvements in treating heart disease by establishing the safe use of new technologies, drugs, and therapies in interventional cardiovascular medicine. Guided by visionary physicians who are passionate about advancing the field, CRF's mission is to improve the survival and quality of life for those suffering from heart disease around the world. CRF's role in interventional cardiovascular medicine is unique. By providing research, evaluation, and education under one roof, CRF has the ability to generate important research questions, test and refine groundbreaking new therapies, and ensure that these treatments are available to patients at the earliest opportunity. For more information, please visit http://www.crf.org.
About the Mount Sinai Health System
The Mount Sinai Health System is an integrated health system committed to providing distinguished care, conducting transformative research, and advancing biomedical education. Structured around seven member hospital campuses and a single medical school, the Health System has an extensive ambulatory network and a range of inpatient and outpatient services—from community based facilities to tertiary and quaternary care.
The System includes approximately 6,600 primary and specialty care physicians, 12 minority owned free standing ambulatory surgery centers, over 45 ambulatory practices throughout the five boroughs of New York City, Westchester, and Long Island, as well as 31 affiliated community health centers. Physicians are affiliated with the Icahn School of Medicine at Mount Sinai, which is ranked among the top 20 medical schools both in National Institutes of Health funding and by U.S. News & World Report.
For more information, visit http://www.mountsinai.org or find Mount Sinai on Facebook, Twitter and YouTube