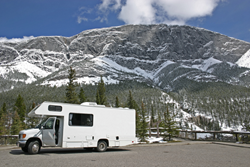 The article notes that, "Replacing and restoring your RVs plumbing is incredibly expensive and can easily be avoided with a little foresight and planning."
Seattle, WA (PRWEB) December 16, 2014
As freezing temperatures draw near, Kirkland RV encourages RV owners to prepare their vehicles for the coming winter months. In their latest article they say, "Failing to properly winterize your RV can result in broken plumbing, mold growth, rodent infestation, and more."
The biggest way owners can prepare their RVs for winter is by preparing the water systems. The article notes that, "Replacing and restoring your RVs plumbing is incredibly expensive and can easily be avoided with a little foresight and planning."
The Kirkland RV Sales article goes on to give a general description of the process associated with replacing the water in an RV with antifreeze.
For more information about Kirkland RVs selection of new and used RVs and motorhomes, visit their website at http://www.kirklandrvsales.com.
As families settle down at home for the cold months ahead, rodents are also looking for a comfortable place to stay. The article warns that, if an RV is not properly winterized, it can be in danger of a rodent infestation.
They say, "Rodents that discover the shelter of an RV will leave droppings and nests all throughout the vehicle, and they can also be responsible for chewing through electrical wires and destroying the interior." Kirkland RV proceeds to inform owners of ways they can protect their vehicle against an infestation.
One of the final ways owners can prepare their RV for winter is by purchasing a manufactured RV cover. Kirkland RV warns owners against using just a plain old tarp to cover their vehicle. The article states, "...a tarp will trap and hold moisture against the surface of your RV, damaging its exterior and threatening to allow mold to damage the interior."
About Kirkland RV Sales:
Kirkland RV Sales offers a variety of RVs, including Class A's, Class C's, and Fifth Wheels. Their branch in Everett is acclaimed for its high-quality customer service and satisfaction. To learn more, visit their website:
http://www.kirklandrvsales.com/.
13111 Highway 99
Everett WA 98204
Phone: (866) 710-0064
Fax: (425) 710-0504