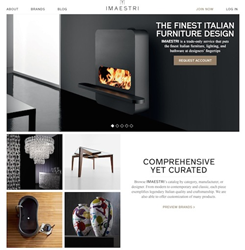 New York, NY (PRWEB) December 17, 2014
IMAESTRI, a new company founded to help design professionals source hard-to-find Italian artisanal furnishings, announces the launch of its online platform http://www.imaestri.com. Envisioned as a comprehensive resource for the U.S. design community, the site targets and engages architects, interior designers, and other design professionals using a proprietary platform that allows them to discover products, shop, collaborate, and manage their projects with ease and convenience.
IMAESTRI (It. "The Masters") is the brainchild of Paolo Timoni, an Italian entrépreneur with a deep understanding of distribution and technology. Named as "one of marketing industry's most innovative" by Advertising Age, Timoni was previously the CEO of Piaggio Group Americas, the maker of world famous Vespa motor scooters, a Partner at McKinsey & Company, and a consultant at Accenture. Timoni applied his professional experience and his passion for superlative design and craftsmanship in both product and user experience, to create a unique marketplace that not only offers unprecedented access to some of Italy's best manufacturers, but also significantly simplifies the end-to-end design process. The online platform lets registered users search and source products, share them directly with their clients, mark favorites, and place orders with just a few clicks. Offering exceptional customer service, IMAESTRI also monitors order progress and handles shipping and white glove delivery.
"We facilitate the collaborative process between master artisanal producers and great design professionals with a focus on streamlining the process and improving the experience from discovery to delivery," explains Paolo Timoni. "We bring small high-end workshops and factories into a world of virtual libraries, B2B online commerce, and global supply chains."
IMAESTRI partners with a carefully selected group of craftsmen, professional makers, and small producers of Italy's finest indoor and outdoor design products, adding new manufacturers and products each month. The more-than-thirty vendors and brands currently available through the platform include Antrax IT, Cantori, De Vecchi, lapalma, Lapèlle Astico, Morelato, NEUTRA, Oluce, and Vaselli – names not widely known in the US but coveted among the industry professionals -- offering a wide selection of in-demand products, from fireplaces and bathroom fixtures to furniture, textiles, lighting, wall and floor coverings, and tabletop goods (for the full list of companies visit imaestri.com/brands-preview/).
"We have a great team of expert curators at work in Italy, and we are on track to have about 100 unique companies covering a wide range of styles and solutions available online by the end of 2015," adds Timoni.
ABOUT IMAESTRI
IMAESTRI, founded by Paolo Timoni, is an innovative design marketplace for discovering and sourcing artisanal Italian products from companies that over many years have mastered design, craftsmanship, and technological innovation. The company's convenient online platform allows design professionals to discover, share, customize and shop hard to find high-end furnishings and accessories, and to streamline their workflow. With offices in New York and Milan and a team of sought-after industry experts, IMAESTRI offers the design community unprecedented access to unique Italian products and capabilities and an unparalleled customer service. http://www.imaestri.com
Hi-res images are available upon request.
Press Contacts:
Michelle DiLello / Dalia Stoniene
Susan Grant Lewin Associates
39 W 32 Street, Suite 1701
New York, NY 10001
Tel: 212-947-4557
michelle(at)susangrantlewin(dot)com / dalia(at)susangrantlewin(dot)com