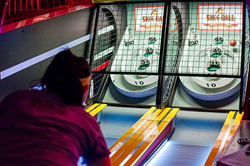 Denver, CO (PRWEB) December 16, 2014
The Denver Skeeball League is very real and very awesome - and this year it is back for it's second full season of helping Denver residents get social.
Each week you and your team will compete in Denver's most welcoming, least talent required adult social sports league versus other teams while making new friends and enjoying awesome bar specials.
The cold temperatures and lack of sunlight during the winter month's make it much more difficult for Denver residents to get out and be active and social during the week, but that's where the Denver Skeeball League comes to save the day.
Denver Skeeball League aims to reinvent a favorite childhood game into a social activity for adults by combining friends, a fun bar atmosphere and the timelessness of Skeeball into one convenient fun package. League registration is now open and closes Jan 13th.
"The best part of our leagues is, they allow anyone of any athletic or physical talent to come out, play a game everyone is good at and meet a ton of other people from around Denver that are there to have just as much and and be as silly as you are" said Elliot Jeffords, Play Mile High Director.
After a successful league launch in the winter of 2014, the Denver Skeeball League has added a bunch of new nights and locations including: Wyman's No. 5 (Wed & Th), Pub on Pearl (Wed), Blake St Tavern (Wed & Th), The Barker Lounge (Wed) and few more.
Registration for each league is $50 a person and is done completely online at Denver Skeeball League's parent website,, http://www.playmilehigh.com/skeeball.
Each individual's league registration includes: seven weeks of league play, team t-shirts, end of season free beer parties, weekly bar specials, prizes for league champions and other league member perks.
"I think everyone should play in a Skeeball league," said Jeffords. "It's easy, can be as competitive as you want it to be, the people are awesome, it's a great way to make friends and anyone, absolutely anyone can play Skeeball."
The Denver Skeeball League is part of a larger social sports and events organization, Play Mile High. Play Mile High organizes and runs different leagues, social outings and events, community service projects and any other activity imaginable for residents to "Get Active and Get Social" in Denver, CO. Play Mile High began in the summer of 2012 and has grown to serve over 4,000 players in 2014.
For more information regarding Play Mile High or the Denver Skeeball League please email Elliot Jeffords at elliot(at)playmilehigh(dot)com or call 303-859-4873.