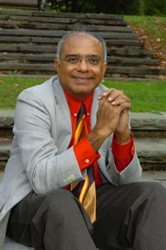 (PRWEB) December 16, 2014
Jon Peters, founder and CEO of AthenaOnline announced today that they have worked with Dr. Srikumar Rao to create new videos derived from Dr. Rao's programs to add to the Athena MyQuickCoach library of just-in-time performance support videos.
Dr. Rao is a speaker, former business school professor, and head of The Rao Institute, based out of New York. He created the course Creativity and Personal Mastery (CPM), which is based on ancient traditions that Dr. Rao has adapted for modern-day business executives and corporations. He has taught the program at a number of leading business schools, including Columbia and the London Business School, as well as many international corporations. It is the only business school course in the world to have its own alumni association.
"I am personally thrilled to have Dr. Rao's material available through our online MyQuickCoach service," said Jon Peters. "We live in world where people increasingly try to find happiness through the latest gadget or upgrade. Dr. Rao's teachings provide a solid foundation that helps us realize that happiness comes from within. It's a message that can ultimately reduce stress and build personal resilience."
Dr. Rao filmed 14 video short (under 5-minute) video modules for Athena's QuickCoach system. "We are all pressed for time and the competition for our attention is vicious," stated Dr. Rao. "Technology has obliterated the difference between work and personal life and social media is ever more beguiling. The way to fight back is to take small nuggets of time and direct your mind to where you want it to go. As you do this repeatedly, you gain control of the emotional domain in which you dwell."
Dr. Rao's lessons will be available January 2015 on AthenaOnline's MyQuickCoach platform and through Athena's licensing partners.
ABOUT ATHENAONLINE
AthenaOnline.com (http://www.athenaonline.com) is an award-winning publisher of multimedia training, education and career development products. Athena was founded as a sister company to The Institute for Management Studios with a mission to leverage technology to create and deliver business knowledge when and where individuals need it. Athena has created over 2,500 coaching modules that are available through their portal system or as a content license. For more information call 800-500-4294.
ABOUT DR. SRUKUMAR RAO
Dr. Rao is the author of two books, Are You Ready to Succeed: Unconventional Strategies for Achieving Personal Mastery in Business and Life and Happiness at Work: Be Resilient, Motivated and Successful - No Matter What, as well as the creator and narrator of the audio course The Personal Mastery Program. All are bestsellers and have been translated into a number of languages. He has received wide media coverage and acclaim, including features in The New York Times, The Wall Street Journal, The London Times, The Independent, Time, Financial Times, Fortune, Business Week, The Guardian, and Forbes; he has also been a speaker for TED, Leading@Google, and Thinkers 50 interview. Dr. Rao has been a contributing editor for Forbes and a featured author for many other publications.
CONTACT:
Karen Kovac
510-302-0538
kkovac(at)athenaonline(dot)com