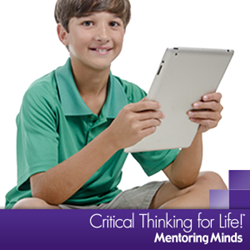 At Mentoring Minds, protecting the privacy of student information is a long-term high priority and signing the Pledge is an opportunity to re-articulate that commitment along with other education leaders.
Boston, MA (PRWEB) December 16, 2014
Mentoring Minds, a national provider of K-12 educational resources, announced today it signed the Privacy Pledge, an initiative of The Future of Privacy Forum (FPF) and the Software & Information Industry Association (SIIA) designed to safeguard privacy regarding the collection, maintenance and use of student personal information. The Pledge, developed by the FPF and SIIA under the guidance of U.S. Representatives Jared Polis (Colorado) and Luke Messer (Indiana), and in collaboration with school service providers, education organizations and other stakeholders from across the United States, details ongoing industry practices that meet and exceed federal requirements and encourages service providers to more clearly articulate these practices.
"At Mentoring Minds, protecting the privacy of student information is a long-term high priority and signing the Pledge is an opportunity to re-articulate that commitment along with other education leaders," said Robert Bush, CEO, Mentoring Minds. "We have always been completely transparent with our privacy policy, strictly adhering to the Family Educational Rights and Privacy Act and adjusting to stay ahead of the ever-changing landscape of today's digital age. We are proud to be national thought leaders on this issue and aggressively champion the legal protection of student data, now and in the future."
As a result of signing the Pledge, Mentoring Minds is reaffirming its commitment to:

Not sell student information
Not behaviorally target advertising
Use data for authorized education purposes only
Not change privacy policies without notice and choice
Enforce strict limits on data retention
Support parental access to, and correction of errors in, their children's information
Provide comprehensive security standards
Be transparent about collection and use of data.
The Pledge also calls for service providers to clearly disclose the type of student information being collected, support access to and correction of a student's personally identifiable information, maintain a comprehensive security program to protect the integrity of personal student information, require vendors to implement the same commitments to the protection of student information and to allow a successor entity to maintain the student personal information and provide the same commitment to safeguarding student information, in the case of mergers or acquisitions.
To read the Pledge in its entirety and for more information about the initiative, including a comprehensive list of signatories, visit Privacy Pledge.
About Mentoring Minds, the Critical Thinking for Life Company
Mentoring Minds, the Critical Thinking for Life Company, is a national K-12 publisher that develops affordable, effective learning tools that give students the critical-thinking skills to succeed, not just in the classroom, but also in life. Experienced educators create award-winning K-12 print and online resources and mobile applications that integrate effective practices for instruction, assessment and learning for students. With offices throughout the United States, Mentoring Minds meets the instructional needs of teachers and students at a rapidly growing number of schools and districts nationwide. For more information about Mentoring Minds and its educational resources, call 800-585-5258 or visit mentoringminds.com.
For more information: Robert Bush, Mentoring Minds, 800-585-5258, robert(at)mentoringminds(dot)com.
Press only: Shaun Wiley, L. Wolfe Communications, 847-644-0237, swiley(at)lwolfe(dot)com.
###