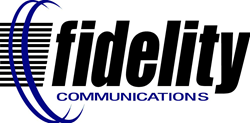 Sullivan, MO (PRWEB) December 16, 2014
A full digital TV channel lineup and high speed Internet will make their debut in Thayer, Missouri, and neighboring Mammoth Spring, Arkansas, in February or March of next year, Fidelity Communications announced this week.
The new digital system will replace an older analog TV system Fidelity inherited from Cobridge Communications when it acquired the Thayer market in 2012.
Plans call for a full channel lineup—including high definition (HD) channels, digital music channels and premium channels—along with whole-home DVR service and Internet packages up to 100 Megabits per second. Fidelity is now installing digital TV boxes in customer homes in preparation for the new services.
Fidelity began rebuilding and augmenting the system after purchasing it from Cobridge. More than $1 million was spent upgrading the system to the latest Internet and digital TV technology to make the new launch possible.
"Fidelity is thrilled to bring a full digital TV lineup to Thayer and Mammoth Spring," said Don Knight, Missouri General Manager. "We provide the fastest Internet speeds in every market we serve and are excited to bring that service to this area for the first time since we acquired the system two years ago."
Higher speeds mean more than faster web surfing and downloads. The more net-connected devices in each household, the more speed is needed to keep them running smoothly. Tablets, laptops, smartphones, gaming systems and printers all benefit from faster Internet connections in the home. With Fidelity, there are no data caps.
Fidelity will greatly expand its TV lineup, offering more than 260 channels, including over 60 in high definition (HD). Whole Home DVR service allows customer to record and watch programs on their own time, in any room in the house. And with Watch TV Everywhere, customers can watch select Fidelity channels on their laptop, tablet or smartphone virtually anywhere.
For more information, call 1-800-392-8070 or visit http://www.fidelitycommunications.com.