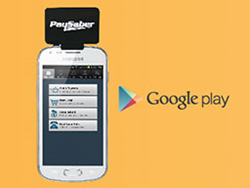 Glendale, CA (PRWEB) December 17, 2014
USAePay, one of the leading payment gateway service provider, released their Android App update version 1.3.8. Consistently keeping the merchants in mind, USAePay is dedicated to being advanced in our industry by testing quality assurance and featuring the latest and most secure options in payment processing.
The Android App update version 1.3.8 includes updates such as having the ability to collect location data of transactions and adding a one time purchase. The update features a more convenient way to utilize the mobile payment processing by improving the user's overall experience and efficiency.
Android App update version 1.3.8 features include:
Record the location of each transaction being processed through "Geolocation" feature.
Add a "One Time Purchase" through the "New Order" section of the application.
User's can enable their GPS settings through the General Settings.
User's can enable their Bluetooth settings through the General Settings.
USAePay's mobile payment Android Application continues to provide a quick and easy interface for accepting credit card payments. The application includes a geolocation, one time purchase, and enabling GPS and bluetooth settings.
Learn more about the version 1.3.8 of the USAePay mobile payment application for Android and download it for free on Google Play today. https://play.google.com/store/apps/details?id=com.usaepay.android&hl=en
###
About USAePay:
USAePay is a family-owned business based in Los Angeles, CA. For over 15 years, the company has been assisting merchants with payment solutions to fit their needs. USAePay's payment gateway supports most of the major platforms in the credit card industry and works with some of the leading check platforms. USAePay is pleased to work with most of the larger merchant service banks in the US and Canada. For more information, please visit http://www.usaepay.com or call 866.USA.EPAY (872-3729).