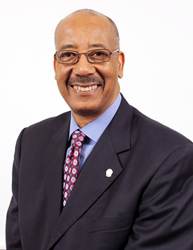 Joseph brings extensive healthcare experience, a strong commitment to operational excellence and a dedicated focus on delivering high-quality patient care.
LENEXA, Kan. (PRWEB) December 16, 2014
After conducting a nationwide executive search led by healthcare leadership solutions firm B. E. Smith, Nashville General Hospital at Meharry in Nashville, Tenn., has hired Joseph Webb as chief executive officer. A veteran executive with more than 25 years of healthcare leadership experience, Webb will assume his new duties on January 5, 2015.
"Joseph brings extensive healthcare experience, a strong commitment to operational excellence and a dedicated focus on delivering high-quality patient care," said Mary Bufwack, chairman of the Hospital Authority of Metropolitan Nashville and Davidson County. "The Hospital Authority is excited to work with Joseph. His knowledge and innovative leadership style will strengthen the hospital's culture and service to the community."
Formerly, Webb served as chief operations officer for Common Table Health Alliance in Memphis, Tenn. Prior to this role, he was chief operations officer at Northwest Mississippi Regional Medical Center in Clarksdale, Miss. He also held several executive leadership positions at Methodist LeBonheur Healthcare, including chief executive officer at Methodist South Hospital in Memphis and vice president of operations at Methodist University Hospital in Memphis. He also served as chief executive officer at HSA Coastal Carolina Hospital in Myrtle Beach, S.C.
"Nashville General Hospital was seeking a dynamic, transformational healthcare executive with extensive business acumen and a proven track record of developing strong relationships within the hospital, medical college and community," said Laura Musfeldt, vice president of senior executive search for B. E. Smith, the healthcare executive search firm who conducted the nationwide CEO search for Nashville General Hospital. "Joseph's experience and leadership style were the perfect fit."
Webb earned a Doctorate of Science in Health Services Administration and a Master of Science in Hospital and Health Services Administration from the University of Alabama at Birmingham. He also holds both a Master of Science and a Bachelor of Science in Health and Physical Education from Tennessee State University in Nashville. He is board certified in healthcare management and a Fellow in the American College of Healthcare Executives (ACHE). Webb is also a member of the National Association of Health Services Executives (NAHSE).
About Nashville General Hospital:
Nashville General Hospital at Meharry (NGH) is a city-owned hospital, providing residents of Davidson County with a wide range of acute care services and state-of-the-art technology. With the alliance of Meharry Medical College, the medical staff provide comprehensive, compassionate and high-quality care. NGH houses a Breast Health Center, cardiac catheterization lab and emergency department, along with adult and neonatal intensive care units. NGH is accredited by the Joint Commission on Accreditation for Healthcare Organizations (JCAHO). Visit http://www.nashvillegeneral.org for more information.
About B. E. Smith:
Founded in 1978, B. E. Smith is a full-service healthcare executive search firm and the top-ranked provider of senior-level leadership services including Interim Leadership, Executive Search and Advisory Services. Veteran healthcare recruiters and regional healthcare experts partner with each client to create customized solutions. B. E. Smith's proven methodology has resulted in the recent placement of more than 900 leaders into healthcare organizations worldwide. The firm utilizes a comprehensive sourcing strategy incorporating the latest marketing techniques, association partnerships, social networking and one of the largest databases of skilled senior-level healthcare executives in the industry to deliver immediate results in today's complex healthcare environment. For more information, visit BESmith.com or call 855-254-8261.