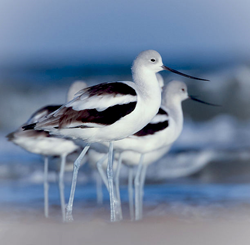 Chicago, IL (PRWEB) December 16, 2014
Winter 2014 – the effects of global warming are being seen first-hand as participants of continent-wide backyard bird watchers find birds in North American areas they typically aren't seen this time of year (societyforscience.com). With over 10,000 participants across the United States and Canada, winter bird feeder sightings (via the Cornell Lab of Ornithology's Project Feederwatch) have shown birds migrating with the warmer weather, putting them in unexpected locations. Bird-X, humane bird control experts for over 50 years, reports.
Since 1970, the Society for Science report states, "the average winter low temperatures have risen by about 0.38 degree Celsius (0.68 degree Fahrenheit) in eastern North America. Global warming, also known as climate change, is the cause." The report continues to discuss that birds are migrating with the changing warmer weather, keeping pace with conditions which provide food, water, and the habitat spaces they need to survive. Because of this action, they note birds' changing locations are, "considered one of the best fingerprints of climate change."
Changes in migration patterns also mean that different species of birds, which have previously never interacted, are suddenly shuffled together into the same space. Society for Science points out that the repercussions of this mixture are unstudied, stating, "Scientists don't yet know what those communities will look like, or how the birds will interact with each other."
Bird-X notes that while some birds may live peacefully with each other, it's very likely that the need for limited territory will cause problems that never before existed. Many birds in nature already prey on each other, while some species (such as the sparrow) steal nests or other areas from each other, to name a few possible problems.
Audubon.org's research takes this prediction further, noting that, "…by 2050, North Dakota will become an increasingly rare island of viable habitat and suitable climate conditions, one of [birds'] few remaining refuges. Protecting a portion of the region for birds could mean the difference between survival and extinction for some species." The landscape of North Dakota is becoming increasingly agricultural as well as being drilled and fracked for oil, making large areas uninhabitable for birds. If such developments continue at the current pace, many species of birds may have no safe space to live.
Audubon's data shows that by 2080, dozens of bird species in North America could be facing extinction due to the loss of habitable land – including species familiar today such as the American Avocet, the Yellow-headed Blackbird, the Chestnut-collared Longspur, the Piping Plover, and the Baird's Sparrow.
Bird-X recognizes another risk to birds as they migrate to unfamiliar areas: places made dangerous by humans frequently appear inviting to birds, such as oil fields, poisonous lakes (bodies of liquid which look like lakes that are actually heavily polluted with hazardous materials), industrial areas with power lines, wind turbines, and other hazardous spaces. These unsafe areas prove fatal to thousands if not millions of birds every year.
Changing migration patterns boosts this risk even more as birds can no longer recognize the same safe spaces they normally migrate to year after year, and humans have not yet secured areas from birds new to those areas. For this reason, it is absolutely vital for any responsible business with such environmental hazards to implement an effective bird control program to minimize the impact on these vulnerable bird populations.
Individuals interested in helping to protect birds can do so by joining Project Feederwatch, adding their own observations to the research group. The more information they have to work from, the more accurate and effective future predictions for bird migrations will be, and the more knowledge can be used to help protect migrating birds.
Bird-X, Inc. has spent over 50 years as the leading international brand of humane bird and pest control products and is dedicated to protecting the health of humans, wildlife, and the environment in which we all live. The Chicago-based company manufactures a complete line of unique pest control products with an unmatched focus on quality, efficacy, and customer service.