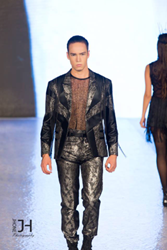 Los Angeles, CA (PRWEB) December 16, 2014
International designer and trailblazer, Kaye Morales, sharpens the edge of style once again with her latest collection Samurai Fall/Winter 2015. The young designer grew up in the Philippines and studied at the prestigious Central Saint Martins College of Art and Design in London.
Her Kaye Morales line has quickly become one of the most striking and stunning collections on the scene worldwide. Kaye has been featured everywhere from Cosmopolitan to Women's Health Magazine, as well as countless fashion shows. Her brand also includes pieces for both men and women.
After making her US debut at Style Fashion Week in Los Angeles this October, Kaye returned back to the Philippines to work on her next collection. True to form, each piece in the 2015 collection is one of a kind, allowing the wearer to have a unique love affair with the item. Kaye heavily pulled inspiration from Japanese Samurai's and their burning desire to succeed, even in times of darkness.
"Honor, nobility, courage, and strength, depict the characteristics of a Samurai", says Morales. These traits are manifested through her hand-sewn beads, unforgettable patterns, and enigmatic prints, giving each piece individual flare.
Kaye strikes a revolutionary midpoint between urban street wear and class, punk and sophistication, and elegance. There's no one quite as edgy as she is, and certainly no one as individualistic. With everything from ready to wear to high fashion chic to bridal and avant-garde, her pieces are sure to stun. Her one of a kind pieces range from $1000.00 on up and available by special order.
Her latest collection features a gorgeous lineup of chic dresses, gowns and men's separates. They are sure to amaze the fashion world in 2015.
###
About Kaye Morales:
Kaye Morales offers a wide range of clothing from formal wears, gowns for all occasions, womenswear and menswear. http://www.kayemorales.com