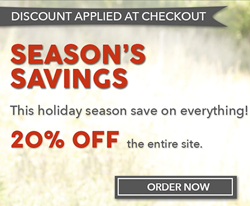 Customers who miss these free shipping dates can still take advantage of free shipping on orders with a final price of $75 or more.
Los Angeles, CA (PRWEB) December 16, 2014
This December, clothing and accessory retailer Clothing Shop Online is offering shoppers affordable deals in honor of the holiday season; for the entire month, customers can take advantage of a winter holiday sale, in which every item that Clothing Shop Online sells is available for 20 percent off regular price. In addition to saving with this flat discount, customers who place their online orders between Dec. 19 and Dec. 25 can reduce their costs further with free shipping, which is available regardless of the size or total value of the order, via UPS Surepost or USPS First Class. Customers who miss these free shipping dates can still take advantage of free shipping on orders with a final price of $75 or more, which is a service that Clothing Shop Online offers regardless of season. Shipping through UPS and USPS ensures that even orders that ship for free arrive quickly; additionally, customers can expect reasonable costs on any orders that do not qualify for free shipping.
Clothing Shop Online offers an extensive selection of clothing for men, women, and children; the main categories of clothing that the company carries are outerwear, sweatshirts, athletic wear, t-shirts, and dress shirts, but shoppers can also find various other items of clothing, such as uniforms, underwear, and headwear. Clothing Shop Online also offers blankets, totes, towels, and other accessories. The company is committed to providing customers with affordable but quality clothing and accessories from famous leading brands, which range from Fruit of the Loom to Calvin Klein; customers can always expect to find this clothing offered at low wholesale prices, without any minimum order requirements. Besides selling affordable clothing, Clothing Shop Online gives customers various additional chances to save on their purchases through seasonal sales and other special offers. Convenient features, such as sizing charts and live online chats with company representatives, make it easy for customers to find just what they are looking for.
About Clothing Shop Online
Clothing Shop Online is an online-only retailer that offers customers first quality clothing at wholesale prices, with featured brands including Hanes, Van Heusen, Sierra Pacific, Calvin Klein, and Fruit of the Loom. Clothing Shop Online was founded in 2012 and has gained a reputation for making online shopping affordable and convenient, with dedicated weekday customer service, reasonable policies for shipping and returns, and frequent discounts on clothing that is already affordably priced. The company stocks clothing and accessories for men, women, children, and infants; to view the available merchandise or learn more about Clothing Shop Online, please visit http://www.clothingshoponline.com.