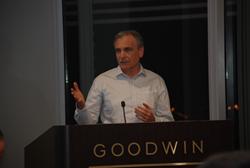 New York, NY (PRWEB) December 16, 2014
Health 2.0 NYC announced today that NVS Technologies won the Hospitals 2.0 Mega Challenge Event on December 3rd in New York City. Health 2.0 NYC is the largest chapter of the 70+ local chapters of Health 2.0, an organization promoting healthcare innovation. NVS Technologies' high-performance, high-multiplex networked molecular diagnostic system can produce results of Infectious disease samples or complete RNA or DNA tests in hours.
"We had over 45 innovative healthcare technology entries and six finalists into this competition, all very highly qualified start-ups, but NVS's ground-breaking portable testing device will transform diagnosis and save millions of lives," said Anthony Manson, Chief Organizer of Health 2.0 NYC and Chief Marketing Officer of Medstartr (lead sponsor of this event). "We had a judging panel made up of leading hospital IT executives from NewYork-Presbyterian, Montefiore and Mount Sinai, and they all were very impressed with NVS Technologies' innovation."
"By delivering time-critical information more quickly at the point of care, the NVS system can significantly improve patient outcomes, lower healthcare costs, optimize therapy and save lives," stated Hans Fuernkranz, Co-Founder and CEO of NVS Technologies. "In addition, if this technology was used for confirmation of Ebola diagnosis in the field, it would have reduced response time from a week to a couple hours, and that would have made a big difference."
The company will develop and market medical diagnostic instruments and consumables for use not only in specialized hospitals and specialty labs, but also in doctor's offices, supermarket walk-in clinics and other distributed testing sites, making reliable diagnosis of infectious diseases and cancer widely available in hours, not days or weeks, wherever people seek medical attention.
Health 2.0 NYC and Medstartr.com are committed to helping healthcare technology start-ups gain awareness and connect them with capital investment in order to succeed and improve care. Medstartr is a two-year-old crowd-funding site for healthcare and has helped over 300 companies raise funding. " We started this because it is a challenge to start a healthcare IT company. With regulations and long sales cycles, it can take years to see success. With crowd-funding, we can help accelerate development," stated Alex Fair, CEO and Founder of Medstartr.com.
About Health 2.0
Health 2.0 promotes, showcases, and catalyzes new technologies in healthcare through a worldwide series of conferences, code-a-thons, prize challenges, and leading market intelligence. Visit http://www.health2con.com for Health 2.0 NYC or go to http://www.meetup.com/health20nyc/ for more info.
About Medstartr
MedStartr enables patients, doctors, institutions, partners, and investors to find and fund the best ideas in healthcare and bring them to life. Millions of patients around the world are standing up and taking an active role in their health, including supporting the care innovations that matter most to them. Visit http://www.medstartr.com for more info.
About NVS Technologies
NVS Technologies is a company with the skills and passion for improving healthcare with the mission to enable better patient outcomes at lower cost worldwide. Collectively, NVS employees are deeply and broadly experienced in designing and developing powerful analytical and diagnostic technologies. The California-based company was founded with the conviction that the world's most advanced technologies can be harnessed at low cost to the benefit of patients everywhere. Currently NVS has developed a medical diagnostic platform that enables detection of infectious diseases and cancerous tissue, identification of the correct therapeutic agent, and prediction of a patient's response to a therapy. The technology is ideally suited to address the critical worldwide issue of growing antibiotic resistance through both patient and environmental testing.