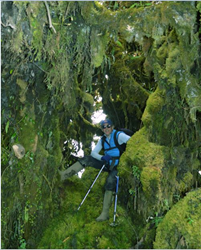 "There are few places on earth where one can stand atop the hot blistering ejecta and vapor of an active volcano surrounded by virgin Amazon flora and fauna – time truly stands still at the summit of the Sangay," said Carlos Montalvo.
Atherton, CA (PRWEB) December 16, 2014
Guargualla Chico, San Fernando, Ecuador – Carlos Montalvo, Jr., a 57 year old former Apple® and HP® executive, has become the oldest American and the first Argentine national to successfully summit the 17,300' Sangay volcano in Ecuador.
Sangay volcano is one of the highest and most active volcanoes in the world. The extreme Amazonia weather, combined with the density and the remoteness of virgin jungle that surrounds it, has long made Sangay one of the most challenging and wondrous expedition climbs in the Americas.
Montalvo reached the Sangay summit with long-time climbing partner, Glenn Ferguson, CEO of Green Environmental after a 70 km approach and descent through the dense jungle and numerous river crossings of the Cordillera Oriental, Ecuador.
The milestone expedition was also a proving ground for technologies from two of Silicon Valley's most innovative stealth companies, Wiivv™ Technologies and SenseLabs™. The companies are focused on commercializing new digital augmentation technologies designed to maximize bio-mechanical and human peak performance, respectively.
The two milestones were certified by Freddy Ramirez, Founding Director of the ASUGUIN Climbing Association (Ecuador's premiere alpine association) and Luis Anibal Tenemasa-Lema, President Centro Tourismo Comunitario Guargualla-San Fernardo.
Montalvo celebrated the Sangay milestone with a follow-on summit of the Antisana and Iliniza Sur volcanoes with his son, Cameron Remy Montalvo.
"Over the years, Carlos has brought his experiences on Mt McKinley and Acuncagua to accomplish multiple summit routes of Ecuador's best known volcanoes - the Cotopaxi, Chimborazo and Antisana," said Freddy Ramirez. "We hope that this achievement helps bring global awareness to the wonders of Ecuador's most exotic and remote wilderness areas. ASUGUIN is recognized as one of the world's top Alpine schools and guide associations and we thank Carlos and Glenn for choosing our association for their expedition and logistics support."
"There are few places on earth where one can stand atop the hot blistering ejecta and vapor of an active volcano surrounded by virgin Amazon flora and fauna – time truly stands still at the summit of the Sangay," said Carlos Montalvo.
"The Community of Guargualla Chico has built a premier example of locally supported, sustainable eco-adventuring. Our lead guide Fausto Tenemasa and his father Emillo pioneered the route which made our summit attempt possible and I invite fellow adventures to follow our lead and visit Ecuador's Jurassic Park. We also thank President Rafael Correa and his administration for investing in locally supported ecotourism in Ecuador's remote indigenous regions."
About Carlos Montalvo – Carlos is a longtime Silicon Valley technology executive with more than 25 years of experience at Apple, Xerox®, Virage™ and most recently HP. He is currently an angel investor and adviser living in Atherton, California with his wife Cecilia and four children.
About Glenn Ferguson – Glenn is Founder and President of Massachusetts-based Green Environmental Engineering, one of the leading environmental hazards engineering and waste clean-up companies in the US. He resides in Quincy, MA with wife Julie and four children.
About Freddy Ramirez – Freddy is a Chamonix France-certified Guide and Alpine School Director. He is Co-Founder of the ASUGUIN Guide Association and is also President and Founder of Sierra Nevada Expeditions, based in Quito Ecuador. He specializes in providing rock and mountaineer guide and expeditions services to French, German and English language-based expedition teams throughout South America, including Argentina, Bolivia, Chile and Peru.
About Fausto and Emilo Tenemasa – Fuasto is a 5th generation native of Guargaulla Chico, Ecuador. As a small boy he helped his father explore and open the classic routes to the remote Sangay Volcano. Most recently, he was personally chosen to help guide the President of Ecuador, Rafael Corea, to the summit of the 19,000 ft. Cotopaxi Volcano, the first Ecuadorian president to accomplish this feat.
About the Sangay – Sangay is an active stratovolcano in central Ecuador. The name Sangay means, "the Frightener", in the Quechua local language and has been a UNESCO World Heritage Site since 1983. It is the most active volcano in Ecuador. 2.0025° S, 78.3408° W.
About Wiivv – Wiivv is an early stage Silicon Valley company focused on developing intelligent sensor-based orthotics manufactured via personalized bio-mechanical modeling and distributed 3D manufacturing. http://www.wiivv.com
About SenseLabs – SenseLabs is an early-stage Silicon Valley company that develops neuro-enhancement software protocols and real-time personal neuro sensors accessed via iPhone and Android devices. Its products and technologies have been performance proven by NBA®, MLB®, F1®, and Red Bull® athletes as well as multiple Olympic™ Gold medal winners seeking improved peak performance. http://www.senselabs.com
Last eruption: 2007
Elevation: 17,388' (5,300 m)
First ascent: August 4, 1929
Prominence: 5,210' (1,588 m)
Mountain range: Andes