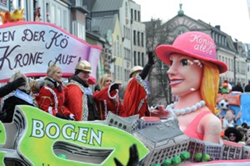 Everything indoors and outdoors is just one big party.
Düsseldorf, Germany (PRWEB) December 16, 2014
The Monday before Ash Wednesday is called Rose Monday in Germany's Rhineland, and, similar to Mardi Gras, it marks entry into a period of abstention. Rose Monday is the last chance to do what you really want for a while, and, hopefully, all will be forgiven soon.
Germans have a talent for turning traditions into institutions, and the cities in the Rhineland region have done just that with Carnival. The Rhineland is known for its joyful and fun-loving people, so Rose Monday there is a blast, and especially in Düsseldorf.
A huge sparkling parade of more 70 floats moves through the city, along with many bands and thousands of participants in costumes. One million people, many dressed up in costumes and called fools, line up to watch the Rose Monday parade, shout "Helau" (the local carnival greeting), and catch the candy ("Kamelle") that is thrown into the crowds from the floats. The parade goes for more than a mile against the backdrop of the city's historic Old Town, also known as "the longest bar in the world," and everything indoors and outdoors is just one big party.
Other highlights:
In addition to the parade there is "Altweiberfastnacht" (Old Ladies' Carnival) on the Thursday before Rose Monday (February 12). Extremely popular with Düsseldorf's women, it's a time for them to storm the town hall and cut men's ties off with scissors - a custom developed hundreds of years ago to show the town fathers who's boss. Moreover, there is a "Youth Procession" on February 14, a family-oriented "Carnival Sunday" on famous shopping boulevard Königsallee on February 15, and a "Barrel Race" – people in barrels racing – on February 16.
For more information about Carnival in Düsseldorf and about hotel and visitor specials, visit http://www.duesseldorf-tourismus.de/en/our-top-events/carnival/.
Düsseldorf's tourism office is offering a hotel and city carnival special for stays between February 12 -17, 2015. The package, called "Carnival in Düsseldorf," can be booked right from the tourism office's website at https://www.duesseldorf-tourismus.de/en/accommodation/hotel-packages/hotel-package-carnival-in-duesseldorf/. Prices start at €54 per night per person based on double-occupancy for a 2-3-star hotel in the city center and at €74 per person for a 4-star hotel. The package includes breakfast and a Carnival-themed breakfast tray, one DüsseldorfCard (free public transportation within city limits plus 30 free or reduced admissions to city attractions), and a city information package. Please check the website for current information.
# # #
Düsseldorf Marketing & Tourism GmbH is the visitors and convention bureau of the city of Düsseldorf. Its responsibilities include tourism and city marketing, as well as conference and meeting marketing, hotel reservation services, fairs and convention services, city event ticket sales and advance ticket reservations. For more information, visit http://www.visitduesseldorf.de.
Düsseldorf Airport, Germany's Next Generation HubTM, offers several non-stop flights from US & Canadian cities (Atlanta, Chicago, Ft. Myers, Los Angeles, Miami, New York, Newark), as well as convenient connections to many European cities. For more information about the airport, visit http://www.dus.com.