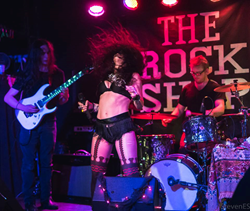 Pleroma has it all: drama, emotion, moving power ballads, captivating lyrics and catchy rocks songs with just enough dark edge and pop hooks to ensnare new fans
New York, New York (PRWEB) December 16, 2014
Vajra's "Blind (Blood Mix)" won the 103 WGBF Rocktagon New Song Battle against Le Projet's "Head Down" (Members of Candlebox, Sevendust and The Infinite Staircase). The Battle is held 5 days a week between two new songs and winners are chosen solely by station listener votes. To read more, see The Rocktagon New Song Battle - Vajra vs Le Projet: http://103gbfrocks.com/the-rocktagon-new-song-battle-vajra-vs-le-projet/?trackback=tsmclip
Vajra's blend of dark, melodic, progressive rock is heating up radio. "Blind (Blood Mix)" is now in rotation at terrestrial commercial rock stations including: KEYJ/Abilene, WGBF/Evansville, KJML/Joplin, KGRR/Dubuque, WOBJ/Fairmont, KAZY/Cheyenne, KFML/Little Falls, KHAD/Upton, KHWL/Altus, KMZK/Grand Junction, KOZE/Lewiston, KQDI/Great Falls, KROW/Cody, KRWN/Farmington, KTED/Casper, KTRX/Ardamore, KXPZ/Las Cruces, WECL/Eau Claire, and WPNT/Villa Rica, and it was added to SiriusXM's hard rock Octane Channel over the Summer.
The single is #44 on commercial rock radio's Under The Radar Chart; was #1 for two consecutive weeks (10/6/14 & 10/13/14) at Rockfile Radio Ice; and is also being played at a host of other internet radio stations including Radio 106, WPNY, Rock 939 and Hard N' Heavy Radio.
Creem Magazine states, "Vajra marries the sound of eastern India with the abrasive, melodic infrastructure of progressive rock. Since playing their first show in 2011, Vajra has been captivating the NYC music scene with their eyebrow raising theatrical antics and uncanny sound. [Their] live show is like a cathartic punch in the face…"
The Big Takeover Magazine describes Vajra's music as, "sinister, sprawling, and stately featuring booming, tribal drums, ominous synths and lucent, spiraling guitars...[w]hat further sets them apart is the East Indian mysticism that pervades thanks to Pinna's hypnotic, Classical Hindustani-tinged singing."
According to Progression Magazine, Vajra's music is, "an innovative nexus of melodic prog, world beat and hypnotic eastern vibes, delivered with dramatic panache."
Vajra's debut album, "Pleroma has it all: drama, emotion, moving power ballads, captivating lyrics and catchy rocks songs with just enough dark edge and pop hooks to ensnare new fans," cites Rick Jamm in Jamsphere Indie Music Magazine
For more about Vajra and for ticket information, visit their website at http://www.thevajratemple.com.