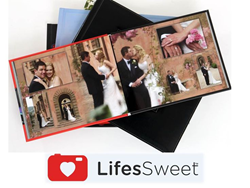 My brother, who is not very sentimental, loved seeing this photo book when my mom and dad had actually brought it home to show him. The neat thing about it is that we are very close family and now we
Englewood, Colorado (PRWEB) December 17, 2014
The Colorado based company allows their customers to upload photos, order video-to-DVD services, and request photo restoration. In return Life's Sweet will create the finished product for you, saving you time on creating scrapbooks and sifting through hundreds of old pictures and videos.
Similar to Snapfish and Shutterfly, Life's Sweet differentiates itself by eliminating the hassle of organizing a photo book by doing that for their customers. Customers simply upload their pictures and choose features they would like in their scrapbook. From there, Life's Sweet takes these pictures, and compiles the photo album. Prior to printing, an email is sent containing a copy of the finished photo album, pending approval from the customer.
Customer, Jennifer Freeman explains how her family benefited from Life's Sweet efficiency, "Life's Sweet was able to take all these photos, that were unorganized and put into random photo books, and they published it into this really special collection of photos from my childhood from when my brothers and sisters were born all the way until adulthood, and it is so much fun for us to look at this photo book at all of our holidays."
Life's Sweet's ability to do all the work and give the customer all the credit, allows for pleasing results and outcomes. According to Freeman, "My brother, who is not very sentimental, he actually sent me an email immediately because he just loved seeing this photo book when my mom and dad had actually brought it home to show him. The neat thing about it is that we are very close family and now we have all of this whole collection of memories that we can always take a look back at."
Founder, Soraya Cartwright, founded the company in 2005 after discovering that very few companies offer photo book production services. She was looking for a place to have photos of her young son printed and assembled into a photo album to preserve the memories. Cartwright was too busy to do this on her own because she was the Executive Vice President at EchoStar/Dish Network, where she oversaw 8000 employees, won multiple awards, and over saw 10-years of growth. Ever the entrepreneur, Cartwright took matters into her own hands and created Life's Sweet.
Because of this personal quest and appreciation for family memories that Cartwright has, Life's Sweet is very relatable and understands the importance of the services that they offer.
Besides creating photo books, offering photo restoration, and video-to-DVD services, Life's Sweet offers other options to their customers. They are able to print puzzles, posters, calendars, cards and invitations, mugs mouse pads, etc.
To learn more about how Life's Sweet can help you, visit their website at http://www.lifessweet.com, call them at (303)-815-1930, Check out some samples on their Pinterest Page or visit them at their location in Englewood, Colorado between Monday and Friday from 8am to 6pm.