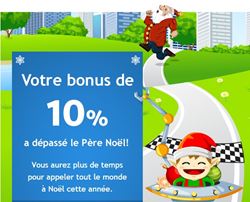 Atlanta, Georgia (PRWEB) December 17, 2014
Either they are on the Nice or Naughty list, Papa Noel brings Haitians living abroad 10% bonus on any Voice Credit order placed on SalutHaiti.com until December 21st. Because everybody deserves spending quality time with their loved ones on holidays. And when living abroad, long calls home are the best remedy for missing family and friends.
After asking Haitians living outside their mother country what they want for Christmas, and noticing that getting in touch with their loved ones is on the top of their list, SalutHaiti.com Santa created this special offer: 10% longer international calls to Haiti. The 10% bonus offer is valid starting on December 18th until December 21st. This means that for $10 spent, customers receive $1 complimentary credit which can be used for 55 minutes, instead of 50, the number of minutes they usually receive for this amount.
Voice Credit is a prepaid service offering affordable credit for international calls and SMS. Calls can be made from a phone via access numbers, from a computer through the Web Call app, and from a smartphone, using a free app for iOS and Android called KeepCalling.
Santa's sack of goodies offers another option to SalutHaiti.com customers: top up the mobiles of people back home in Haiti. The operators Digicel, Natcom and Voila are available, with values ranging from $5 to $30.
What differentiates SalutHaiti.com from other similar services are the low rates offered, the frequent promotions, the simple online recharge process, and the fast credit transfer. The 100% transaction security, the 24/7 Customer Service available by email and phone in both English and Spanish, plus the comprehensive Help Center are other features that make SalutHaiti.com a reliable partner for Haitians living outside their mother country in keeping a good relationship with people back home.
Customers describe this international calling service as `prompt and fast` and `the best on the market for Haiti`. One customer says `The transaction went well, quick, easy and my phone was charged with minutes again in less than 30 seconds.`
SalutHaiti.com runs a policy focused on integrating superior customer service, while maintaining the highest standards of technology at affordable rates. That is why SalutHaiti.com is the best solution for international mobile recharges.
About SalutHaiti.com:
SalutHaiti.com is an interactive website designed by KeepCalling, a global telecommunications company registered in 2002 in USA. Presently, KeepCalling provides its services to hundreds of thousands of consumers and businesses, with a focus on customer satisfaction. In 2014, Inc. 5000 listed KeepCalling as the 18th fastest growing company in the telecommunications industry in USA.