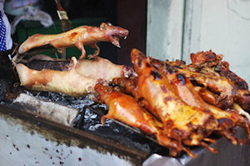 Part of experiencing a new place is discovering local delicacies and tasting new things
Brighton, UK (PRWEB UK) 16 December 2014
Fed up with festive fare already? Responsibletravel.com rounds up some of the world's most far-out traditional food to send taste buds off on their own holiday adventure. Read more at http://www.responsibletravel.com/copy/stuff-the-turkey
Managing director Justin Francis says, "With food such an important part of Christmas, it's a shame if we let our perspectives be narrowed to just turkey and Brussels sprouts.
"When I look at the wide range of cultures and cuisines we have across the 400 specialist tour operators listed on responsibletravel.com, it always reminds me that part of experiencing a new place is discovering local delicacies and tasting new things.
"While I don't support eating everything on this list, it's been fun discovering some of the world's most weird and wonderful fare at this time of year."
Pass the salt...
1. Casu Marzu, Sardinia. A cheese the EU has been trying to ban for years. Due to the live maggots which partly digest the pecorino into soft, crumbling goo. Afficianados eat it with live maggots, as dead ones suggest the cheese is unsafe. The aftertaste is said to linger for hours. And the nightmares for years.
2. Tarantulas, Cambodia. A particular delicacy for Cambodians, stir-fried in chilli, garlic and salt and said to taste a bit like soft-shell crab. The white meat found in the head and body is the tastiest while the brown, pasty gunk in the abdomen in spider marmite. You either love it or hate it.
3. Dancing Shrimps, Thailand. Known as 'Goong Ten', this northern Thai salad features tiny live shrimp tossed in fish sauce, ground roasted chilli, coriander and onion, with lime juice squeezed over to set them jigging.
4. Fried frogs, Thailand. The Thais share a French love of frogs, but the whole beast – deep-fried, curried, stewed. Or try Mok Huak, deep-fried, partially developed tadpoles reputed to taste like chicken nuggets.
5. Pajata, Italy. A Roman speciality, unweaned calves intestine cooked cooked with the chyme (partly digested mother's milk) left inside. Heat turns it into a unique cheesy sauce for a dish served grilled (pajata arrosto) or with rigatoni.
6. Huhu grubs, New Zealand. The Michelin Man's bug alter-ego, the larvae of New Zealand's largest endemic beetle are said to taste like peanut butter.
7. Blood, Kenya. Used in sausages around the world, but the Maasai in Kenya prefer it straight up, direct from the cow. Nicking the jugular, the Maasai then mix the fresh, warm blood with milk before knocking it back. And on sealing the cow's wound it appears to suffer no ill effects. Dracula move over.
8. Balut, Indochina. It seems Indochina has a taste for duck foetus (about 8-9 days old) boiled in the shell. Prepared a variety of ways, the Vietnamese go with salt 'n' pepper, lemon juice and Vietnamese mint, while in the Philippines the broth surrounding the embryo is sipped from the egg before the shell is peeled and the embryo scoffed.
9. Cuy, Peru. Low in fat and cholesterol and high in protein, cuy, or guinea pig is South America's answer to rabbit. Try deep-fried or roasted, and the younger the cuy, the crispier the skin.
10. Rocky Mountain Oysters, USA. Not a seafood sensation, but bull's testicles deep fried for comfort food for cowboys out on the prairie.
11. Hrútspungar, Iceland. Passing the balls to Iceland, Hrútspungar are instead pickled lambs testicles. For a soft, tangy treat, peel off the membrane and saute with lemon and sumac.
Tasting other cultures' food and drink is a highlight of many holidays, responsibletravel.com has a range of cooking and food holidays with much more palatable options. Find more here: http://www.responsibletravel.com/holidays/cooking
Notes to editors:
About responsibletravel.com
responsibletravel.com is the world's leading online travel agent for responsible holidays and a pioneer of responsible tourism. Started in 2001 with backing from Dame Anita Roddick of The Body Shop the site's mantra is 'travel like a local'. It sells holidays that are about more than just a brief stay somewhere - instead it is travel that offers a real connection with the people, the landscape, the culture, the food and the environment. It offers over 7,500 responsible holidays from over 3,000 holiday providers which all support communities and conservation. Handpicked local specialists provide authentic holidays for those seeking adventure, cultural or active experiences worldwide in destinations as diverse as Ethiopia - http://www.responsibletravel.com/holidays/ethiopia, Andalucia - http://www.responsibletravel.com/holidays/andalucia, and the USA - http://www.responsibletravel.com/holidays/usa.
In addition responsibletravel.com:

is quickly becoming the leading online publisher of responsible tourism content with an expanding portfolio of 130 travel guides by February 2015.
founded and organises The World Responsible Tourism Awards, celebrating 11 years at World Travel Market this year.
campaigns for positive change in the travel and tourism industry.
CEO Justin Francis has been included in Courvoisiers The Future 500, Thames and Hudsons 60 Innovators Shaping Our Creative Future and taken his place on the Advisory Board of The International Centre for Responsible Tourism at Manchester Metropolitan University.
The company is based in Brighton's North Laine district, England.
Contact:
Sarah Bareham
press(at)responsibletravel(dot)com
01273 829269