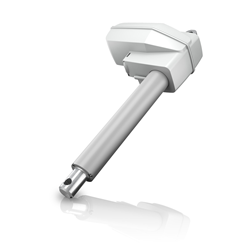 Guderup, Denmark (PRWEB) December 17, 2014
The future of healthcare
The healthcare sector is facing a number of challenges in the future, such as ageing population and obesity. The demographic development will result in more elderly people in need of care and, at the same time, fewer people to do the caring. Society in general also faces a growing obesity challenge which will affect the safe working load of healthcare applications.
With an increased number of persons to care for and less warm hands to do the caring as well as reduced healthcare expenditure per person, these trends present new challenges to manufacturers of hospital and healthcare equipment.
This calls for applications that are optimised in regards to efficiency, reliability and power, also making life easier and less stressful for all healthcare staff. LA40 will add value to applications and help manufacturers of healthcare equipment gain a competitive edge on the market.
LA40 as part of the solution
The development of the new LA40 actuator from LINAK was done with the future of healthcare in mind.
The actuator LA40 distinguishes itself from other actuators with a unique combination of features:

High speed
High IP degree of IPX6 or IPX6 Washable
Cleaning friendly design
Low noise level
Compact design for flexible mounting
6000 N and 8000 N versions
Robust construction
New LINAK patented gear and brake principle offering increased efficiency
The combination of the above mentioned features ensures improved performance for the benefit of both caregivers and people in need of care.
LA40 ensures a reliable and strong application capable of living up to the high standards of the medical industry with regards to hygiene, performance and strength. This is exactly what the healthcare sector needs to be ready for the future of healthcare.
The LA40 will improve the performance of a wide range of healthcare applications, such as:

Healthcare beds
Couches/tables for treatment and examination
Dental chairs.
More information on LINAK, please check http://www.linak.com
For more information on LINAK products, please check: http://www.linak.com/products/
LINAK is the world leader in designing and manufacturing linear actuators and electronic controls for a variety of applications such as hospital beds, patient lifts, office desks, leisure beds, harvesters and many other applications in the industry.
LINAK is a global company with subsidiaries all over the world and production facilities in Denmark, the USA, Slovakia and China. LINAK employs approximately 1600 employees and has a turnover exceeding DKK 2.2 billion.