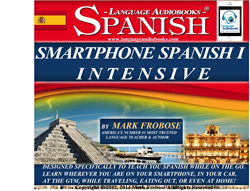 Champaign, IL (PRWEB) December 18, 2014
The Christmas buying season is off and running, and the language programs are flying off the shelves of major bookstores.
"Not so fast," says Mark Frobose, author of the bestselling Smartphone Spanish Intensive.
"Language programs are no longer flying off the shelves but rather being emailed to everyone's smartphone," he explains.
Mark, author of Smartphone French Intensive, who himself is fluent in seven languages, announced today that all LanguageAudiobooks.com Smartphone programs are on sale and ready for immediate purchase and email delivery at Audible.com.
"Audible.com makes it so easy to purchase holiday language gifts," explains the bestselling language program creator of Smartphone Italian Intensive. "They digitally gift wrap the smartphone language program and then allow you to schedule delivery to any email on the planet for the day and time you want it to arrive, along with a digital Christmas card," he adds.
The digital language program is then immediately downloadable to any smartphone or computer for immediate listening and language learning.
"This is the best "email stuffer" language gift on the planet," smiles Frobose, who also created Smartphone Mandarin Chinese. "I love the way the programs can be used either on the go with a smartphone or cozy at home in front of the fireplace with a laptop computer," he concludes.
Learn Languages Everywhere® is the motto of LanguageAudiobooks.com. The Language Audiobooks® method is an extremely effective and versatile audio language learning system that can be used anywhere for any duration of time to teach people to speak any language while in the car, at home or on a smartphone!
Free sample lessons of smartphone friendly Power Spanish, Power French, Smartphone Brazilian Portuguese, Power Italian, Bite-Sized Mandarin, Conversational Latin-American Spanish, Clean French Slang and other innovative language programs are now deeply discounted at Audible.com.