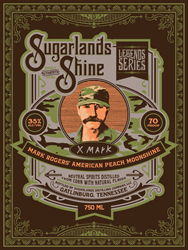 Once you've had some good liquor, you'll know it.
Gatlinburg, Tennessee (PRWEB) December 16, 2014
Sugarlands Distilling Company announces the newest addition to its authentic moonshine offerings with Mark Rogers' American Peach moonshine. The launch of Sugarlands Shine American Peach, marks Sugarlands Distilling Company's first 70 proof moonshine. Mark Rogers joins Jim Tom Hedrick as the second legend in Sugarlands Distilling Company's popular Legends Series.
Mark Rogers is a true American hunter, fisherman and woodsman. Rogers has moonshined most of his life learning the trade from his 12 uncles when he was only 8 years old. Mark was taught to slow down and make it right. Rogers states, "Once you've had some good liquor, you'll know it."
Sugarlands Distilling Company, located at 805 Parkway, Gatlinburg, will host Mark Rogers for an exclusive American Peach moonshine launch meet and greet on December 20th 2014 from 4pm – 7pm. Mark will meet with fans and sign autographs in the downtown Gatlinburg distillery. Customers who visit Sugarlands Distilling Company are welcome to sip Sugarlands Shine flavors at the distillery's "Sippin' Posts," including those of the Legends.
American Peach is available for purchase starting December 20, 2014 at the downtown Gatlinburg Sugarlands Distilling Company location. Retail store distribution will begin in mid January of 2015. Sugarlands Distilling Company currently distributes award-winning Sugarlands Shine in Tennessee, North Carolina, South Carolina, Indiana, West Virginia, Kentucky, Illinois, Minnesota, and Florida.
Other Sugarlands Shine varieties available include Silver Cloud Tennessee Sour Mash, Jim Tom Hedrick's Unaged Rye, Appalachian Apple Pie, Blockader's Blackberry, Butterscotch Gold, Old Fashioned Lemonade and Southern Sweet Tea.
About Sugarlands Distilling Company
Sugarlands Distilling Company is a producer of craft quality moonshine and whiskey and is also a popular attraction in downtown Gatlinburg, Tennessee. Inside the distillery, guests can taste free samples of authentic Sugarlands Shine, take a behind-the-scenes tour of the production, and purchase a variety of moonshine flavors, mountain merchandise, and apparel. To enhance their experience, guests can enjoy live music, Appalachian storytelling, and book outdoor adventure tours in the Sugarlands, an area of the Great Smoky Mountains National Park historically referred to as "moonshiners' paradise." The company is East Tennessee-owned, with a focus on bettering the local community through a variety of events and charitable giving. Sugarlands Distilling Company's phased strategic distribution strategy will be supported through a partnership with TAG USA, one of the most respected beverage marketing/sales organizations in the country.