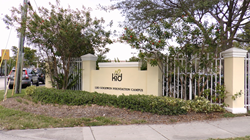 Fort Lauderdale, FL (PRWEB) December 17, 2014
As the year winds down and the holidays around the corner, Uniweld Products prepared for their annual KID Toy Drive. Uniweld has participated in the toy drive for 5 years now and always looks forward to helping those in need.
For more than 30 years, KID (Kids in Distress) has helped children in their community by offering in-home, family strengthening programs that care for and educate pregnant women and new mothers; programs that assist families with issues of domestic violence, substance abuse, and extreme economic stress; and provide assistance in accessing everything from food stamps and employment assistance to housing and legal assistance. KID has a vision of a community of safe and healthy children in loving families. That vision comes closer to a reality by their mission to prevent child abuse and treat children who have been, by teaching the principles of family, trust, compassion, safety, wisdom, and tenacity.
For those interested in donating, events, mentor programs, fostering a child, etc., visit http://www.kidinc.org.