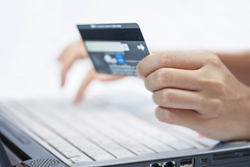 Atlanta, GA (PRWEB) December 17, 2014
AQuickDelivery, a recognized leader for same-day delivery and transportation services announces easy credit card online ordering for same-day delivery. The announcement comes in an effort to market its courier services for the holidays, promote online courier ordering and increase online sales. The Atlanta courier strives to be a superior one-stop courier of same-day logistic solutions within the Atlanta and Metro-Atlanta area.
AQuickDelivery offers easy credit card online ordering as a value-added service for account holders and one-time client requests. From the courier's home page, customers have access to creating an online courier service request. Customers can complete the AQuickDelivery quick quote online. The online quote system will then provide pricing for the service based upon the provided basic information, primarily zip code to zip code. The customer will then be able to choose to place an order and pay via credit card online.
The credit card ordering system accepts all four major credit cards, which adds to the courier's ability to provide convenience and options to its customers. For customers on-the-go, AQuickDelivery is accessible via its' mobile app, which easy credit card ordering online is available also. AQuickDelivery will continue to offer the latest in business and courier technology to add value to the same-day delivery services it provides.
Online orders are dispatched quickly to perform the same-day delivery within the service type that customers select. The courier has service options to deliver within its standard 2.5 hours, to even as fast as within an hour. For any questions or processing issues, AQuickDelivery also has customer service professionals available to assist customers with credit card ordering online.
AQuickDelivery is a premier same-day courier offering transportation and distribution services. From small packages to palletized freight, AQuickDelivery delivers fast. As a leader in the courier industry, its' goal is to perform optimal courier logistic solutions and superior customer service every time. The courier provides same-day delivery successfully for over 1,500 clients, including Fortune 500 companies throughout the Georgia area.